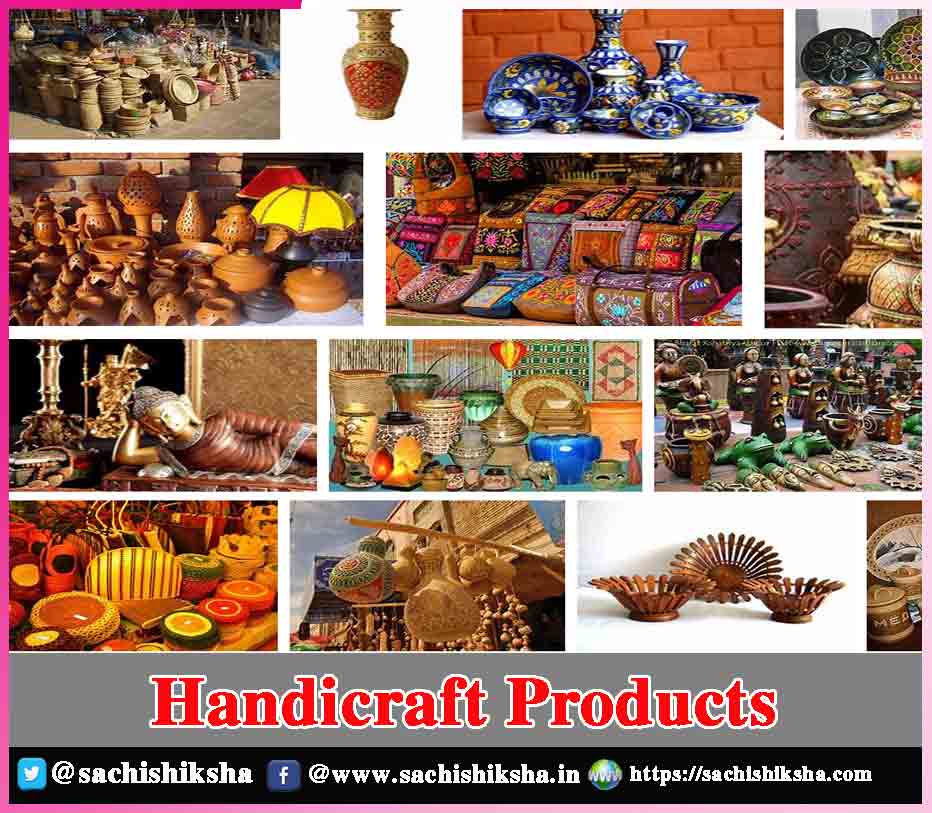 Handicraft Products Introduction:  Yup! Summer has arrived. There are numerous items in season right now, including mangoes, watermelons, pine apples, umbrellas, pots (to make buttermilk and fill with water), and… wait. Have we considered the pot's manufacturing process? Are there any machines that make pot? The response is no. It is a handcrafted product.
Also Read:
What is a Handcrafted Product?
Products that are manufactured by hand using certain instruments are known as handmade goods. It contains some recycled, natural ingredients. Here, a clay mud pot  is made by hand using a wheel.
"HANDCRATED THINGS NEVER GO OUT OF STYLE"
History of Handcrafts in India:
Wheel was the first scientific invention of humans. Pots were burnt to make it stronger. They also decorated the pot with natural colours.
As hunting was the main occupation of human in the past, they required tools to hunt animals. It was difficult for them to kill animals without tools. They made different kinds of tools out of hands like strong and sharp ones to kill animals, sharp one to tear the muscle of animals. They also made tools like axes with stones which help them cut trees, remove bark, and dig pits etc.
Eventually people showcased their art skill in everything like metal, ivory, stone, wood, paints, textiles, weapons etc. The art of handcraft is important in Indian history. Our India, especially South India stood pioneer for the improvement of art and architecture. Many Pallavas contributed in improving sculpturing during their ruling period.
Even today we could see those sculptures in Mahabalipuram, Chennai. The places were named after the Pallava king Mamallan who gave importance and motivated the artisans to do better works. Likewise, many handcrafted dolls, vase, ornaments, idols of ancient period are excavated in every excavation.
Types of Handcraft Products:
As there are many types of handcrafted products, let us see them one by one.
Pottery– As we saw it earlier, pottery is the ancient handcraft which traced back to Harapan C It is made out of clay. It is also known as Terracota. Vase, jewels, dolls, whatever it may be, made of clay and followed the procedure of burning to make it stronger is called terracotta.
Jute Products–Things like flower vase, incense stick stand, basket, bag, dress are made out of jute.
Resin Products– Products like photo frame, wall clock, book mark, fridge magnet are made of mixture of resins. This is one among trending handicrafts.
Macrame Products– This is a type of textile product which can be made as keychain, vase case, wall hanging, etc by different knotting techniques instead of weaving.
Dhokra– It is a unique form of metal casting in Madhya Pradesh and known for its simplicity.
Block painting, embroidery, phulkari, carpet weaving etc are some other handicrafts that are famous and unique in  their own way.
Geographical Indications of Handicrafts of India:
(GI TAG – it is a sign used on products that have a specific geographical origin and possess qualities and reputation that are due to their origin.)
There are numerous unique Indian handicrafts that have  recognition due to origin. Some of them are as given below:
Thanjavur Doll – Tamil Nadu
Thanjavur Art Plate – Tamil Nadu
Villianur Terracotta Works – Puducherry
Rogan printing – Kutch
Seashell Crafts – Andaman
Konark Stone Carving – Odissa
Jaipur Blue Pottery – Rajasthan
Coconut Shell Craft – Kerala
Agra Marble Art – Uttar Pradesh
Jutti – Punjab and so on.
Therapeutic Effects:
Crafts are a form of art. Handicrafts are considered to be creative works of art. We may better preserve our mental health by engaging in creative activities like painting, dancing, singing, origami, and quilling, among others. These activities focus us on a single goal, keep us extremely engaged for an extended period of time, and standardise our mental health. This concept is frequently used by psychologists as a kind of client therapy. Institutions like rehabilitation centres counsel its patients and patrons to partake in any artistic endeavour to overcome their addictions.
The memory level may also be improved by engaging in hobbies like arts and crafts. Elementary school students are given a work to do at a starting level as a way of introducing the process of learning. The challenge of the assignment is not necessary. It might also involve simple origami tasks, cutting sheets into certain shapes to create objects like pencil stands or flower vases, or folding papers into specific shapes. Better learning and more motor activity will result from this for the kids.
Several schools organise exhibitions where students sell items that they have produced. This exercise benefits kids in a variety of ways, including increasing their likelihood of understanding the value of handcrafted goods, ecouraging students participation and developing business ideas at a young age.
Business Ideas:
The desire for handmade goods has increased recently. Many consumers are eager to purchase and utilise handmade goods. So, there are many concepts and businesses on handicraft products emerging in the market. Anything and everywhere are accessible in our digital age. No matter where you go, you may find handcrafted items like wooden dolls, Thanjavur dolls, macrame goods, Warli arts, etc.
This raised the employment rate as well. With the expertise of carrying out certain actions, many people began operating their own businesses. This benefits many people financially. Even many NGOs in India assist women and individuals by educating them on how to make any type of handcrafted item and assisting them in marketing it for profit. They also show them how to run a business out of it. Handcraft product has its own unique place and recognition even in this era. They have no end in this market.
Crafting is a Journey. Crafting is a Therapy.