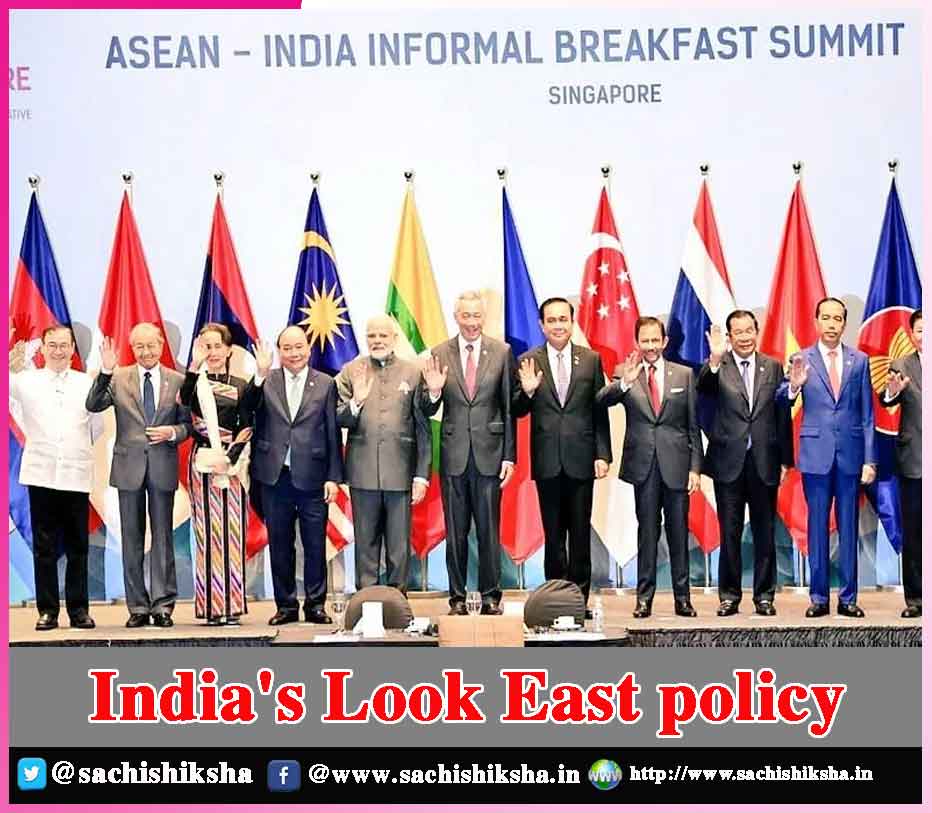 India's Look East policy
Introduction: Diplomacy is a methodology that governments use to influence the actions of foreign governments through peaceful means such as negotiations and dialogue. For any country to survive in the global space, it should maintain good relations with other countries.
Today as the global boundaries are fading off and the world is getting smaller, it is crucial for nations to not only frame good national policies but also have their minds on their foreign policies and diplomatic relations with other countries. For India, dialogue and diplomacy have been prime features while approaching its foreign policy. One such policy is the Look East Policy. It is the policy that is meant to cultivate and nurture relations with the South East.
We are all aware of the hegemony of China and the pressure it is trying to exert not only in the south but also at a global level. After the cold war in 1991 India began adopting a multi-dimensional foreign policy that facilitated closer economic and strategic engagements with the United States (US) and its allies in the South East.
Also Read:
"Look East Policy" Crucial for India: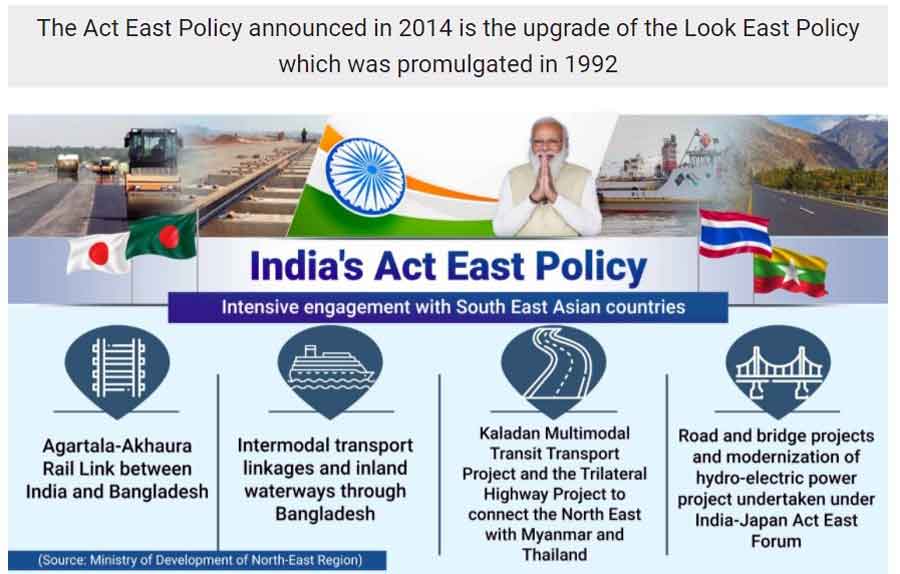 China with its One Belt One Road initiative and debt trapping various countries especially the ones vulnerable to fall prey to it has worried everyone with its aggressive and uncompassionate approach. To counter this and also to maintain healthy relations with our east neighborhood, facilitating better trade in goods and services, information and technology exchange and defense cooperation, it has become crucial for India to adopt 'Look East Policy'
Launching of Look East Policy:
The Look East Policy of India was launched in 1991 by the Government of India led by the former Prime Minister Narasimha Rao. The objective was to maintain economic, political and security ties with Southeast Asia. India has made several multilateral agreements to engage with East Asian nations that have boosted India's Look East policy.
Bilateral Relations with Other Nations:
India has focused a lot more on bilateral relations through trade and other domains needed for its own development and building diplomatic ties with other countries in its neighborhood. Some of the bilateral relationships are India-Bangladesh, India-Mayanmar, India-China, India-Singapore etc.
Regional groupings hold much significance and relevance in today's world. ASEAN- Association of South Eastern Asian Nations, BIMSTEC- Bay of Bengal Initiative of Multisectoral Technical and & Economic Cooperation,
SAFTA – South Asian Free Trade Area, EAS – East Asia Summit
MGC – Mekong-Ganga Cooperation,
BCIM – Bangladesh, China, India and Myanmar Economic Corridor etc.
Look East Policy and China:
The significance of Look East policy is relevant today because of the way events are turning out today. We are all aware of China's excessively aggressive attitude in the South China Sea towards the island nations. China's continuous transgressions at the LAC in India also shows how China is hostile and bellicose towards its neighbors.
QUAD is another grouping of India, Australia, Japan and US to counter China in the Indo Pacific. Look East was also meant to open the doors for maritime oriented communication by bringing in the coastal states of East India. This way it will help to build relations with southeastern nations that are dominantly coastal.
Act East Policy: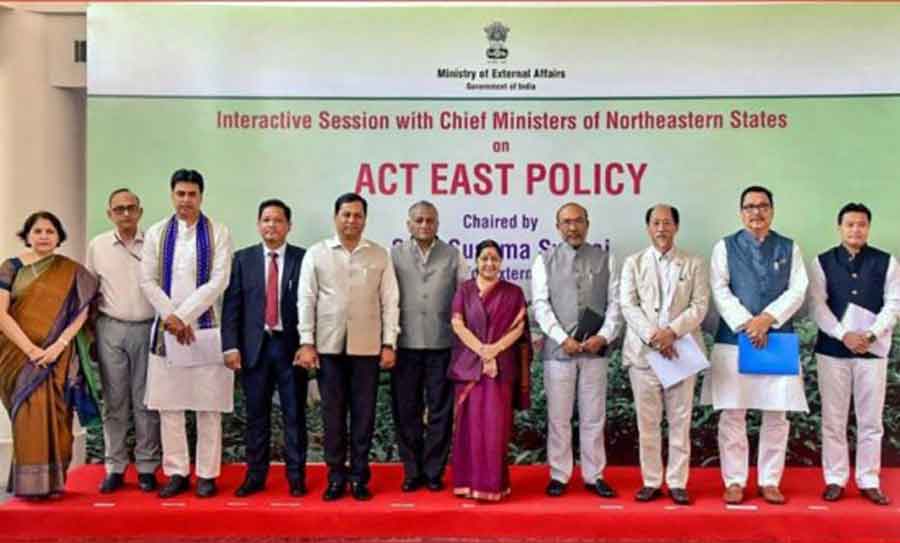 There are many forums, regional groupings and platforms that have supported India's Look East Policy like we discussed above. Now the question that arises is does New Delhi stop right here with the policy? Or is there something better and more robust that succeeds the policy. Well, the successor of Look East Policy is Act East policy. The 'Act East Policy' announced in November, 2014 is the upgrade of the "Look East Policy. It is meant for greater and closer engagement with the East.
This engagement is in all spheres and all domains where growth and development is crucial today. This policy also covers the far east like Japan, South Korea, Australia and many island nations. The ties are not only limited to the trade, commerce and the political arena but also culture, defense, capacity building and people-to-people-contact at bilateral, regional and multilateral levels. Besides aiming to strategically counter China's influence this policy is also inherently focused to improve the economic development of the North Eastern Region (NER) which is a gateway to the South East Asia Region.
Results of Look East Policy:
The time when India launched the Look East Policy in 1991, India's trade with ASEAN was USD 2 billion. After signing the Free Trade Agreement in 2010 with ASEAN, the trade has grown to USD 72 billion (2017-18). In the context of growing Chinese aggressiveness in the South China Sea and the Indian Ocean, securing freedom of navigation and India's own role in the Indian Ocean with the aim of free and open Indo Pacific  is a key feature of Act East Policy. Kaladan Multimodal Transit Transport Project, Agartala-Akhaura Rail Link between India and Bangladesh are the results of this policy.
India is also implementing Quick Impact Projects(QIPs) in Cambodia, Laos, Myanmar and Vietnam to provide development assistance to grass-root level communities in the fields of education, water resources, health etc. India and Japan signed a CEPA (Comprehensive Economic Partnership) in 2011. Indo-Japanese cooperation received a big push with the signing of an agreement in 2017 to establish  the  India-Japan Act East Forum which is conceived of as a platform for bilateral cooperation.  Many institutional mechanisms binds their partnership in such forums like annual summit, strategic dialogue, defence dialogue, and numerous forums on counter-terrorism, cyber security, maritime cooperation, digital technology, biodiversity, patents and climatic change.
India`s Vision  & Narenra Modi:
Prime Minister Narendra Modi has described India's  vision in the  region in one word, SAGAR which stands  for Security and Growth for All in the Region. India is concerned about the volatility and uncertainty in the region because of the decline of US influence and the rapid rise of China. India, therefore, is interested in building relationships and engaging with other like-minded countries to evolve a new regional order which is open, rules-based, and free from the influence of any single hegemon.
In his address at the Shangri La Dialogue in June 2018, Modi underlined, "Such an order must believe in sovereignty and territorial integrity as well as equality of all nations, irrespective of size and strength. These rules and norms should be based on the consent of all, not on the power of the few. This must be based on faith in dialogue and not on dependence on force."
Conclusion:
We have realized that India's Look East policy and Act East Policy are very crucial in today's global scenario. It makes much sense when countries are not respecting each other's boundaries and the global order is chaotic because of US-China's deteriorating relations and the ongoing Russia Ukraine war. Diplomacy and dialogue has become mandatory to maintain peace and harmony.
The pandemic also throws light on the importance of integration in terms of health, pharma and technology. Thus, both the policies adopted are important and must be diligently worked upon for India to uphold the principles of the UN Charter where the world lives in peace and harmony.