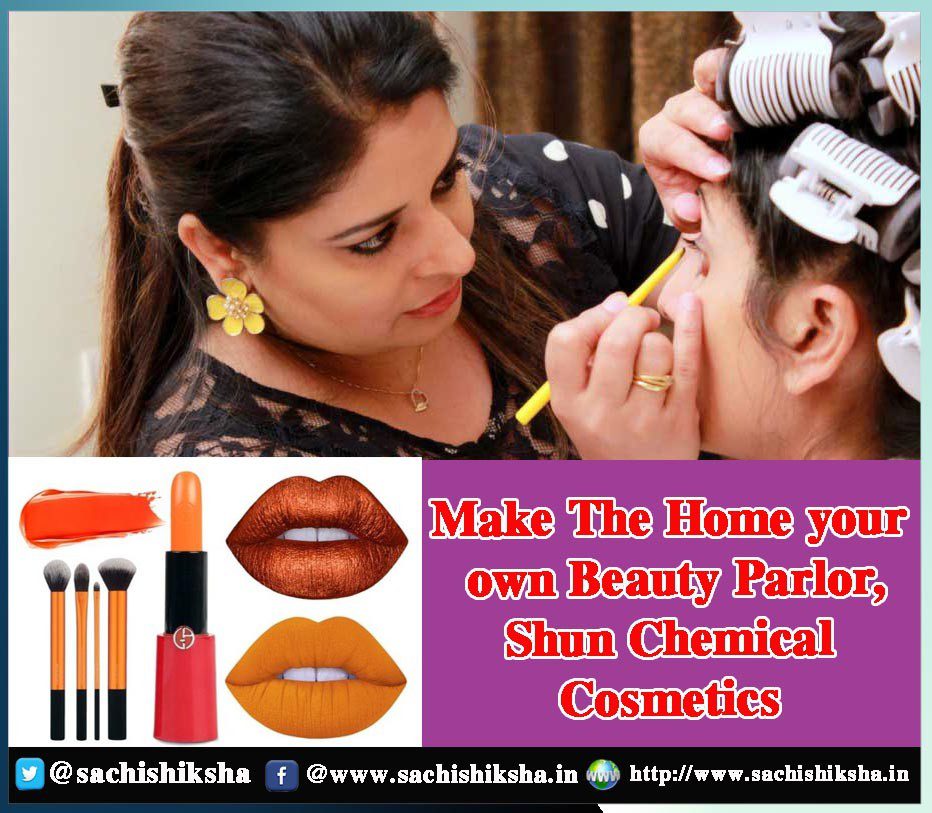 Shun Chemical cosmetics  The women have been aware of their beauty since the ancient times. In the olden days, the Ubtan of cosmetics was very important. But the use of Ubtans in today's busy life where everybody is racing against time has been reduced greatly.
As the women have started taking the services of beauty parlors, the Ubtan of cosmetics have started decreasing day by day. Going to a beauty parlor means spending a lot of money. Besides, the various chemical substances that beauty parlors use also have adverse effects on the skin. The beauty of the body is nature's gift.
Light natural cosmetics increase the beauty of the face. On the other hand, the cheap cosmetic item made of chemicals that we find in the market affects beautiful soft skin of our face adversely. Not only rich sections but women of middle class families are also are fully involved in this race.
Along with the fashion, the desire to become fashionable is also fast gaining ground. The young ladies are rushing towards such chemically made beauty products and they think that they can become beautiful only in beauty parlors. Not only working women, students and homemakers have also started using beauty products.
So why do not we prepare and use domestic Ubtans at home only?
Do some home remedies such as experiment:
Mix one teaspoon of coffee well in one-and-a-half spoon honey. Now put it on the face like a coating and after half-an hour wash it. The face will be fresh.
For cleaning the face, forehead, neck and hands, we should use sandalwood, gram flour, curd and lemon juice.
Lemon is also known as a natural bleach and hence it would be right to say that it lightens the skin without any harmful effects.This will not only fair our color, but our skin will also be healthy. These nature-friendly ingredients make Ubtan a very nutrient rich and efficient remedy. It removes all the dark patches and provides a light and soft texture to the skin.
Mix rose water in the raw milk and apply it on the skin, whole dust (scum) will come on the cotton.
Put a mixture of glycerin, lemon and rose water on face and hands before sleeping in the night. This is a profitable home remedy for winter. This keeps the skin smooth.
Dry the orange peel in sunlight, grind it properly and mix it in milk and apply it on the face and wash the skin with lukewarm water in the morning.
Grate the white part of the fresh radish thoroughly and take the juice and mix butter in its equal quantity and apply this mixture on face and neck and wash after one hour. This mixture is a sure remedy for skin cleansing.
Put a spoon of orange or lemon juice in the curd and apply it on your face and wash it. After taking some time on the face, the skin will remain soft and gentle. – Spana Goyal