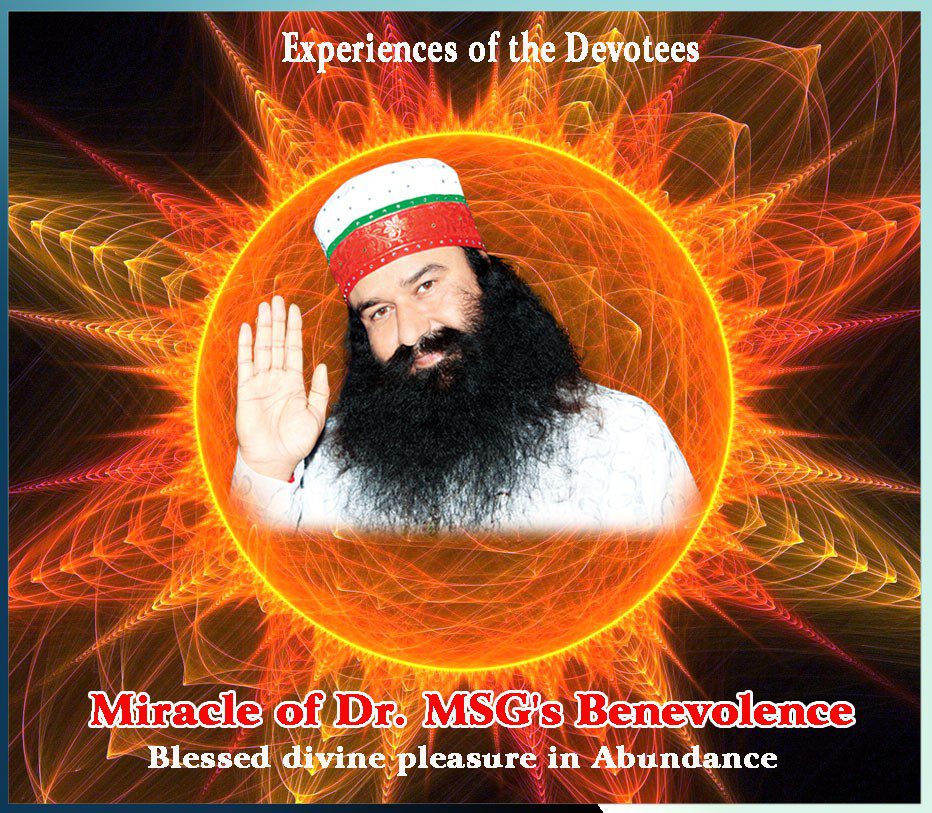 Miracle of Dr. MSG's Benevolence,Blessed divine pleasure in Abundance
Experiences of the Devotees
This description of the great benevolence of the Spiritual Guide is of April 29, 2008 which was experienced by sister Asha Insan wife of Devotee Pratap Insan, resident of Shah Satnam Ji Nagar, district Sirsa Haryana.
In a written description of the incident, she says that I took God's Words in 1986 at Dera Sacha Sauda, Shah Satnam ji Ashram at Barnawa in Uttar Pradesh. Before taking the God's Words I used to feel and experience for a long time that the homes of the followers of the Dera Sacha Sauda were like heavens. There was no intoxication in these homes, there was no non-vegetarian food also.
Not just these but there was a homely and friendly atmosphere in such homes and no one argued over trivial matters. The people in these houses were friendly and and believed in glorifying the blessings of God Almighty and doing their work without bothering or troubling anybody. They did not have any bad habit also.
I used to be very happy looking at the friendly atmosphere and this inspired me to take `get initiated in God's Words'. My wish was fulfilled in the year 1986. After taking the God's words I decided to inspire others also to take `Naam Shabd'.
I wanted more and more people to do so. It was my wish to make their houses look like heaven like that of mine. With the blessings of the Spiritual Guide, I made my parents, brothers and sisters, sister-in-law, friends and other relatives join Dera Sacha Sauda. Revered Pita ji also blessed my wishes and there was no dearth of happiness in our house as a result. God is still showering His blessings on us.
This particular incident took place on April 29, 2008. I was on watch and guard duty like other days at Shah Mastana ji Dham. Suddenly a thought flashed in my mind tht the present Revered Saint Dr. Gurmeet Ram Rahim Singh ji Insan (Dr MSG) always says that the volunteers will get good fruits of their service to humanity and prayer to God.
I thought today I will certainly take that fruit home.
I was wondering what fruit will Pita ji give me today. My watch and guard duty was till 9 pm. Other volunteer women in my shift went home after duty, but I stayed back determined to get the fruits of my duty from Pita ji. At this time another woman came there.
I knew her. She told me that on her marriage Revered Param Pita ji jhad given her a Rs 5 coin as good-luck. She also showed me the Royal Coin. She also told me that her marriage had taken place in the presence of the Revered Pita ji.
Listening to her tale, I also wished that had my marriage taken place in the presence of the Revered Pita ji, the Revered Shahanshah ji would have given me the Royal coin which I would have preserved in my treasury. At the same time a thought also flashed through my mind that the Revered Saint Dr. Gurmeet Ram Rahim Singh ji Insan would certainly present me a coin and I would go home only after taking the coin.
I stayed back at the Dera with such thoughts and then realized it was 1.30 am. At this time blessed eatable Prasad for volunteers also arrived. Incidentally it was the Spiritual Foundation Day which was celebrated with great fervor.
A grand celebration was also held. The entire devotees were also given blessed eatable. The devotees were also given the `Royal Coin' (one rupee coin each) were given to all the people who had not been given in the previous bhandaras ever.
All the volunteers present were given the blessed eata
bles ofall the religions in separate envelopes. When I opened the envelope, I was overjoyed to find the one rupee coin (Ilahi khazana) . I was thrilled to see the year 1982 printed on the coin.
It was in the year 1982 that I had been married. I had been praying to get the `shagun coin (good -luck) and here it was in front of me. Had the Revered Pita ji been present in my marriage he would have given me the same coin long time back.
This was a special gift of the Revered Pita ji that I had got just now. I was very happy to get the special gift. My joy knew no bounds. I was on cloud nine then.
I showed the coin (special gift of the Revered Guru ji) to all the women volunteers present on the occasion. I told them that the Revered guru ji has given me the `shagun' for my marriage. I told the women volunteers if they had also received the one rupee special coin along with the blessed eatable ? All of them said they did not get the coin along with the blessed eatable in the envelope.
Then I went back home and kept the Royal Coin safely in a box. Next day at the day time I opened the box to show the Royal Coin to my family, but I was shocked to find it was not there. I could not believe my eyes. Where did the coin disappear just like that? I felt very sad. Then I went to the Revered Saint Dr. Gurmeet Ram Rahim Singh Insan and told Him about my problem.
I said that the special gift of the Royal Coin that He had given me had disappeared although I had kept it safely in a box at my home. When I opened the box today morning the coin was missing.
Perhaps it was my great mistake that I had told about this incident and my happiness to my fellow women volunteers. Pita ji, please forgive me and give me the happiness once again. Rev Pita Ji just smiled and said, `Beta? Happiness come to you many times, but you return it. I asked for forgiveness from the Revered Pita ji again and told Him that I had committed a mistake. Please forgive me and also give me power to digest the divine pleasure.
Long live Shahanshah Pita ji! How You keep track of the children every moment. Dear Spiritual Guide, every moment of my life is devoted to You. Every moment of my life every breath of my life will be spent at your feet. Please never keep me away from Your holy presence.
Follow us on Facebook, Twitter, Google+, LinkedIn and Instagram, YouTube to get more updates related to sachi shiksha Spiritual Magazine, articles.