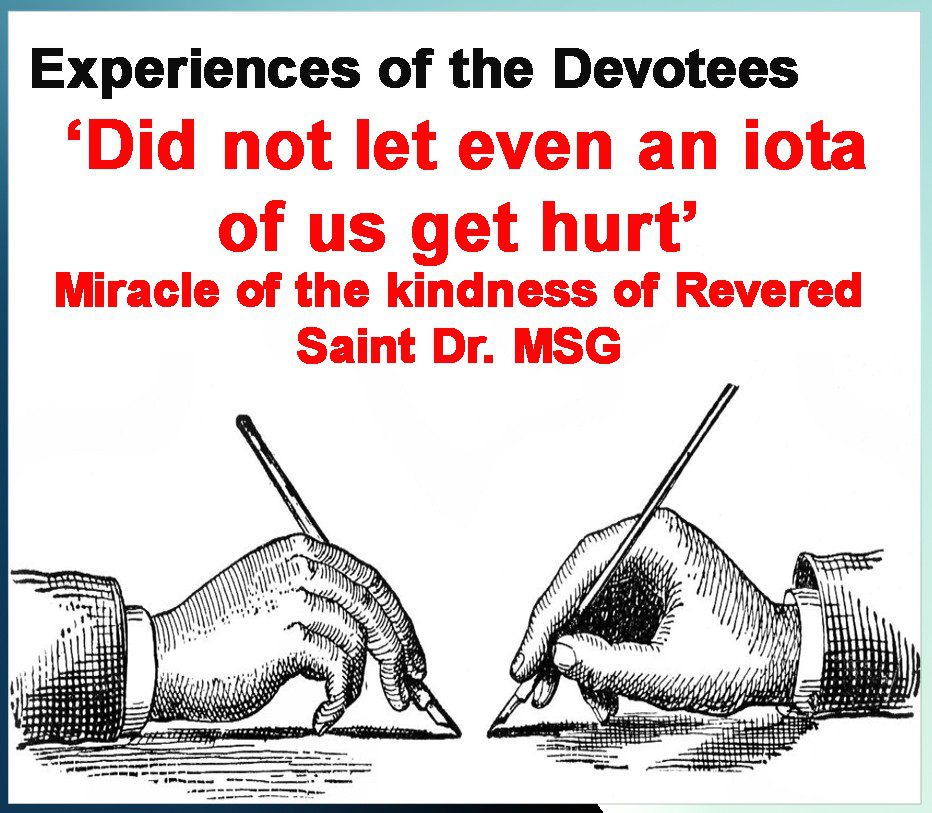 Did not let even an iota of us get hurt'
Experiences of the Devotees Miracle of the kindness of Revered Saint Dr. MSG
Lady Praneet Kaur Insan daughter of Mr. Sukhchain Singh Insan resident of Gharonda district Karnal (Haryana) tells us in writing about one incident of the limitless kindness of her Spiritual Master, who did not let even an iota of us get hurt. This incident is of December 2013.
That night I saw a strange dream, Revered Saint Dr. Gurmeet Ram Rahim Singh Ji Insan was singing a psalm and all the present spiritual followers were dancing with joy. I was also present. Suddenly, the Revered Guru Ji squeezed lemon juice into my(while dancing) eyes.
It came to my mind(as it created irritation in my eyes due to squeezing of lemon) as to why did He squeeze lemon into my eyes, if He had to pour something then He could have dropped the rose water.
When I woke up in the morning, many bad thoughts started coming to my mind such as that something could happen to my eyes or some accident could also happen. But that day passed off happily.
After two days, there came another dream while I was asleep. I saw that Revered Pita Ji was organizing a discourse.
While doing discourse, He suddenly came towards me and squeezed lemon into my eyes, again. At that time, I was staring at the attractive looks of the Spiritual Master which made me feel irritation in my eyes.
When I woke-up in the morning 2, thought that there is something.
But who knows the secrets of the Spiritual Master. I decided,for sure, to know the reality of the whole thing by writing a letter to the Revered Pita Ji .
On 12th of January 2014,Sunday, there was a program of spiritual assembly on the happy occasion of the sacred incarnation month of the Revered Param Pita Shah Satnam Singh Ji Maharaj, at our residence.
It was about 9 o' clock. I was in my room on the upper floor, when my grandfather asked me, 'O daughter! The light connected to the inverter was not operating, just check whether the battery water had exhausted'.
I went downstairs to the room and saw that there was no light where the inverter was kept. I lit a candle in the kitchen and fixed it in the room on a table or a chair, opened the battery water coloumn, the water was upto the brink. When I was closing the cover of the battery, I realized that there was something black inside it.
I lifted the candle in one hand to see as to what that was. The moment I brought the candle near the battery and started peeping, the gas (Hydrogen gas) coming out of the battery caught fire and an explosion took place as if a time bomb had exploded.
I did not get to know as to what had happened with me. There was darkness all around me, I called out for my grandfather 3-4 times that I was not able to see anything. Perhaps, the lane gate of our house was open, my grandfather had not reached till that time and that he may not have heard my voice, but a man passing through the lane entered quickly.
He had come to save me as an angel. He took me away from the battery and lashed drops of cold water on my eyes. Till that time, after listening to the din, many people had assembled at our house. I heard the voice of one among them saying that one of her eyes had turned white in color.
After listening to that I felt that my eyes and face had got disfigured, For once, I had lost the hopes of living due to the fact that there was no use living with disfigured eyes and face. A thought cropped up in my mind that Pita Ji would never let anything wrong happen to His daughter. I was taken to the hospital immediately.
The eye specialist poured some eyedrops into my eyes which made me see clearly. I became very happy. I thanked Pita Ji, 'O my dear Benefactor! You did not let anything wrong happen to me'. But till now, I had the suspicion that my face would have become disfigured for sure.
The people were also saying that after seeing the condition of the room where the battery had exploded and that the cemented walls of the room had developed holes and the acid of the battery had made the floor wherever drops of acid reached, the floor had become blasted from there, and the cloths of the person who had helped me, had also got burnt (he was going to attend a party).
After seeing all that, the people were saying that the eyes of the daughter had destroyed and her face would also have got disfigured.
But all of them were amazed to see the good condition of my face and eyes and I was also very happy to see myself in good health.
Dr MSG my Spiritual Master, granted His kindness and did not let even an iota of mine get hurt.
It is worth describing that, the scenes of squeezing the lemon juice, twice, into my eyes that were shown by the Spiritual Master was an excuse to save my eyes.
O my benevolent Spiritual Master! Dear Dr. MSG, the Lion heart, please keep me blessing always. Please do not keep us away from Your sacred feet.
Follow us on Facebook, Twitter, Google+, LinkedIn and Instagram, YouTube to get more updates related to sachi shiksha Spiritual Magazine, articles.