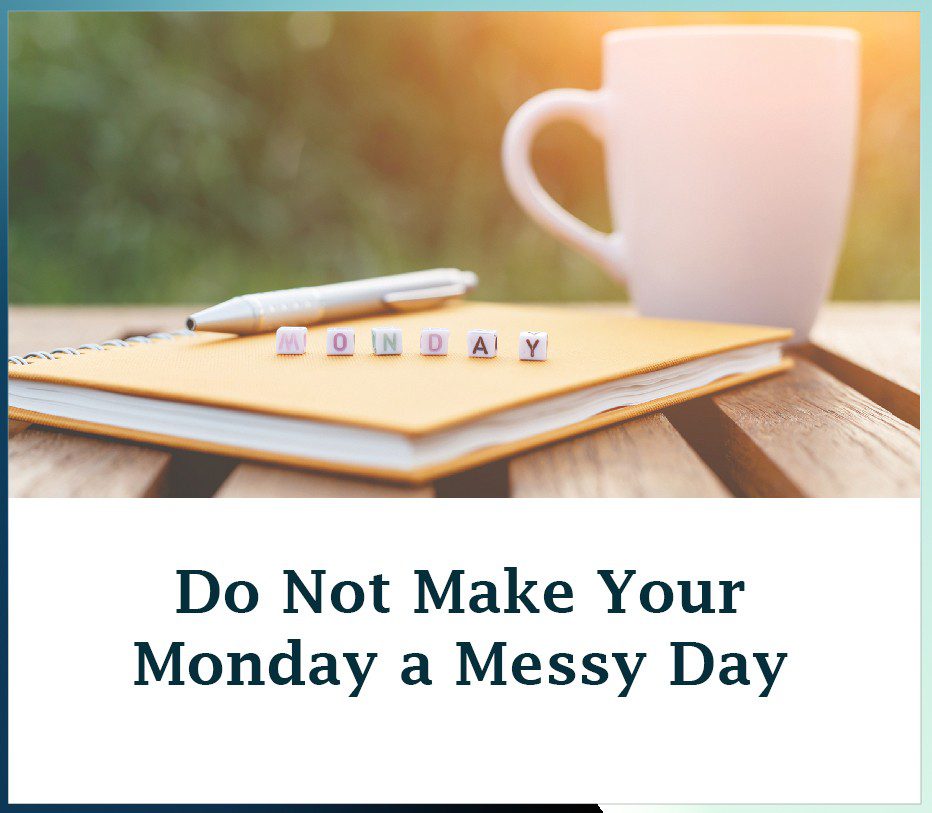 Do Not Make Your Monday a Messy Day
People, in general, may think that Monday is not a problem day for them but in reality it indeed can be a messy one unless things are executed in a proper way.
People know that to run the house, they have to earn their money. For that, they have to do job or run businesses. But for arranging professional meetings, to complete the team's works and projects in time and to launch new projects, the starting day Monday can be problematic.
According to a survey undertaken recently, most of the people are found tense on Monday morning. They feel depressed and lazy. Result is that they do not get themselves involved in work and the effect of this is felt for the whole week.
Also Read:
Another survey reveals that your Monday is the reflection that how you spent you Sunday. This can be your over busy schedule on Sunday or tiresome physical or mental work or you had attended a function till late night. All these are not permanent but a temporary phase.
If this lasts for weeks together, you have to think over it that are you feeling tense with office atmosphere, your work, your boss or your colleagues. If these are the reasons, send your resume to other organizations and try to find a new job.
Love Your Work:
If you love your work, the work is of your taste and you are getting satisfactory remuneration, ignore petty-little things. Keep in mind, that all the things will not be smooth all the times. Keeping all the situations in mind, do not create a Monday fever creep in your mind. Get up early and go to office with fresh mind.
Start Planning From Friday Itself:
From the afternoon of Friday, keep account of your weeks schedule and works. See to it that if anything is pending for the next week, they should be completed in time. Try to finish all pending works in the first three days of the week. Finish rest pending works in the last two days so that nothing is carried over for the next week.
Make Planning For Monday:
If your past week's work is completed, the tension will be quite less. Think over it on Sunday itself that on Monday in office I have to do a good job. I have to offer tea or drinks to my colleagues. I have to help my colleagues with a light mood. These thoughts will keep you energetic and you will be happy too. See and feel Monday as the most energetic day of the week in office. After all you have to fulfill the responsibility. Otherwise you will kill the day by seeing TV or sleeping. It will be better that by realizing your responsibility, you go to office with new energy and will power.
Make Friends At Your Workplace:
Meeting your friends with a warm heart after the weekend should also be your motto. Taking lunch and coffee with them will be a pleasure for you. There will be discussions and exchange of views. By interacting with them, you will be able to learn something. Make such friends in office with whom you like to talk and take lunch.
Try To Remain At Home on Sunday Evening
If you want to host a party, try to host it on Friday evening or Saturday afternoon or evening so that you can manage your home on Sunday and feel tension free on Sunday and prepare yourself energetic for the next day. If you have to go somewhere, try to return by Sunday noon so that you can prepare yourself for going to office on Monday.
Follow us on Facebook, Twitter, Google+, LinkedIn and Instagram, YouTube to get more updates related to sachi shiksha Spiritual Magazine, articles.