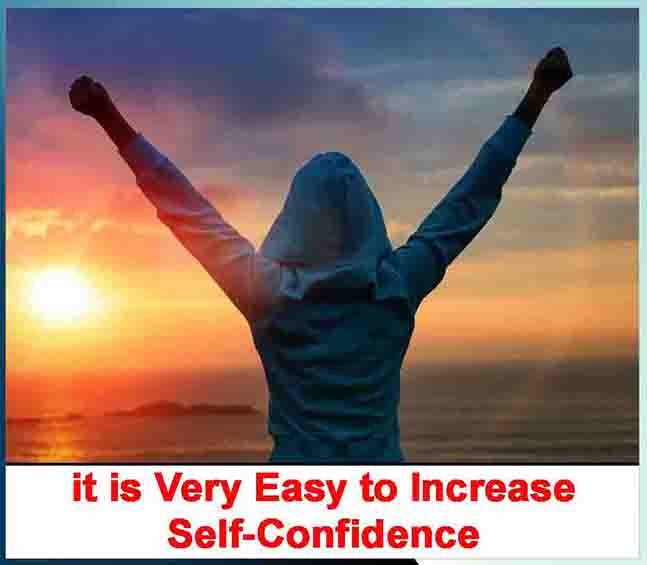 It is Very Easy to Increase Self-Confidence
Confidence in one's own self has a magical effect on a person. It propels one to face life bravely and achieve greater heights in life. This is due to the fact that the self confidence increases the energy and enthusiasm. Besides, a person having self confidence also gets respect from others. The good thing is that you can increase it keeping minor things in consideration.
A person of self-confidence accepts praises with open heart. They don't commit the mistake that a well-known singer once did. Let us have a glimpse into it.
Once, a well-known singer of our musical industry sang a song very nicely. The senior singer praised her. The singer replied that you are befooling me as her level of self-confidence was low and she was not expecting her song rendered was really good. Hurt at her rudeness, the senior singer said "You should not tell like this, when anyone says and prays, you should reply that it is all God's blessings." The words of the senior singer might be different but the thoughts behind this would be that when any one praises somebody for a good performance at whatever it may be, one should accept it politely without anxiety.
Also Read:
Accepting the praise in a normal way is a sign of strong self confidence. The specialists advise that if someone praises you or gift something, instead of hammering and showing you are incapable, accept it happily and thank the person in clear words.   This type of reaction will also add to your confidence. These small things not only make you feel better but also increase and make your picture better.
A man with full self-confidence becomes the leading hero in the crowd. People start following him. When you want to teach someone, first you have to start that work. If you don't practice this, your lecture may not impress others. It is your work, your confidence and positive approach that motivates others.  Man is known by his acts and not with the words.
1.Tell only 20% about you:
The Center of the topic of your conversation should not be your problems and unhappiness. With this though you can get sympathy but you will not get respect. If the topic of the conversations revolves around yourself, your problems, the other person will consider you as a "Bechara" or helpless. While explaining your problems, you will definitely under estimate yourself and naturally feel weak. So it is better to speak less about you and whenever you talk, discuss only with a positive angle.
Like this whenever you meet someone for the first time, there is a tendency to exhibit your first impression. Because of this, we want to tell all our qualities and achievements. This affects adversely. The other person starts under-estimating because people usually trust less on the persons boasting about themselves. So remember that in the first meeting tell only 20% about you and 80% should be the discussion about other person. Thus there will be no anxiety telling about your one's own self.
2. Try to find the colours of his eyes:
Bending down the eyes and the head show the lack of confidence. So in any meeting, look at the person's eye smilingly. Though this sometime becomes difficult. In this situation you must adopt a trick. You decide that while talking and meeting someone, you have to find the colour of his eyes. You will not get anything by seeing in his eyes. Yes! While doing this, you will see in other's eyes. Remember that you have to establish the contact of eyes and not staring. Like this in the meeting, first you take initiative to smile and then let the other person reciprocate. Thus the control is in your hand which increases your confidence. A confident man does not have to talk more to convince the other person. His way of talking, his behavior works.
Remember these Also:
Your aim should not be to please anyone and get his/her recognition. Instead, think of receiving respect always. Wishing to receive something, by pleasing anyone itself means underestimating yourself.
Whenever you walk, bow your head up. During the walk, see hither and thither. Like the lion sees everywhere, this type of body language will make you feel good.
Preparing yourself also increase your self confidence. So always remain managed and make all preparations beforehand. With half preparations you always have the signs of hurry and worry.
Do your work yourself. Take help in case of utmost necessity.  If you do not know the work, try to learn it with practice.
Such expressions like "If this would happen" and "Please" should not be used very often. Instead, clearly put you view and say emphatically: "I am of the view", "I want……"
Other Useful Tips:
Always think the glass is half-full. Never say that it is half empty.  Always have positive approach.
With meditation and yoga, you can easily increase your self-confidence.
Always try to spare sometime for your own self. Do not waste, but spend some money on your dresses, your hobbies and also on other items.
Once in a month, give time to go to parlour. Be sober in getting the makeup done. Do pedicure, manicure and fruit facial, if necessary. If short of funds, you can prepare the facial with homemade things. But on the weekends, if you are working, spare some time to sit in sun and do all things at home. Always remember that cost of the garment or a makeup item does not count to chisel your personality which, in turn, builds up your self-confidence. Simple and cheap things, if selected with proper care, give good impression. Your motive should be simple living and high thinking.
Weekly care of the house also make you confident. You start Monday with confidence when all the necessary things about your house are completed with care on Sunday.
Give proper respect of mutual relations. Give quality time to your kids.
Have vigilant eye on every activity of the house. It does not matter even if you have servants or assistants at home. The maid should not think that she can do anything and the lady can be befooled easily.
Forgetting and forgiving makes you contented and fill your heart with inner peace. This, in turn, fills you with positive energy and that energy can be used to build strong self-confidence.Always remember that over confidence spoils your personality and make you egoistic whereas self confidence makes you disciplined and managed. Your personality is polished with self confidence. With the self confidence, your personality gets groomed in different spheres. You do not take home to the office and vice versa.
Doing right thing at right time with right approach shows the confidence in you.
MADHU MEHTA
Follow us on Facebook, Twitter, Google+, LinkedIn and Instagram, YouTube to get more updates related to sachi shiksha Spiritual Magazine, articles.