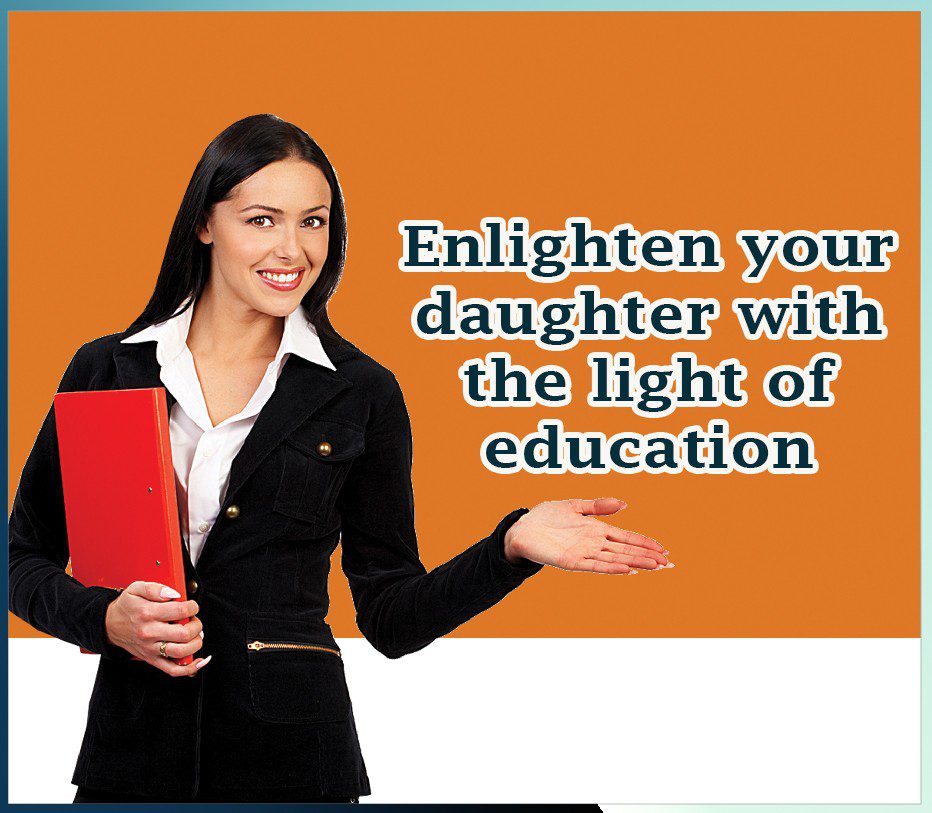 Enlighten your Daughter with the light of Education
Today our country has become more attentive towards the education of the girls.
In fact, the mothers who had no education do not their daughters to be their replica.
They give emotional support to their daughters.
Also Read:
Here, one thing should be mentioned:
in educating your daughters, do not impose your wishes and hopes on them. They encourage the daughters by giving them moral support on every front, to go forward in the area of their own interest and never appear as an obstacle. Mothers have realized what is good for their daughters. And for the survival of their identity if they want to fly in the sky, we have to provide wings to our daughters so that they can do so.
Inge Penderson, a poetess from Denmark, has very beautifully explained about the freedom of a daughter:
"Use my safety net, but come out of it, if it becomes a neck rope for you
Take help of my hands, but break it, if it becomes a nipper"
Good education comes only from the mothers. The mother teaches her daughter not to get victimized. She also encourages her to do service to the mankind.
Shooter Anisa Saayed's mother was a house wife. Anisa was the fifth child and you can imagine she must be an unwanted child at home. But her mother felt Anisa is attracted towards sports and hence encouraged her to go ahead. Not only Anisa, she encouraged other daughters also to take part in sports and cultural activities.
Well known Gynecologist Prema Dhawan wanted her daughter to be in her profession as it generates money in addition to name and fame. But her daughter Smaaiyra was interested in fine arts. She respected her daughter's wish and sent her to Hyderabad for higher studies in fine arts.
According to psychologist Adward Demalo, a person loses his confidence, if under pressure, and also doesn't get success. He or she may get inferiority complex. If Prema would have pressurized her daughter to come in doctors profession, she would have become frustrated and would not have touched the high limits which she got. Self satisfaction counts a lot in your life.
Mitali's dream from childhood was to become a teacher. Her parents were engineers. They would have easily persuaded her to become an engineer but they knew that she has the right to choose her own path and they have to encourage her to go ahead on that path. A teacher's job is a noble work and now instead of Master Saab and Mastarni Bai, they are called Sir and Ma'am.
The talent, potentiality and possibilities lie hidden in the girls. It has been proved beyond doubt. If the parents cut their wings, it is only due to illiteracy or old fashioned thinking. It is not that they do not have feelings of love and affection for their daughters but the old social laws and traditions binds them to allow their daughters to do whatever they wish. This parental mindset needs to be removed.
Once this is done, they will be able to walk with the current time.
Think of the girls whom you want to keep away from the light of education? If you allow them to study and gather knowledge, they will become your support in the old age. They will be confident if they are educated. The girls also are independent by birth like the boys.
Then why they are tied and kept deprived of their basic rights? Allow them to create their own identity and help them to enlighten themselves with the light of education.
Follow us on Facebook, Twitter, Google+, LinkedIn and Instagram, YouTube to get more updates related to sachi shiksha Spiritual Magazine, articles.