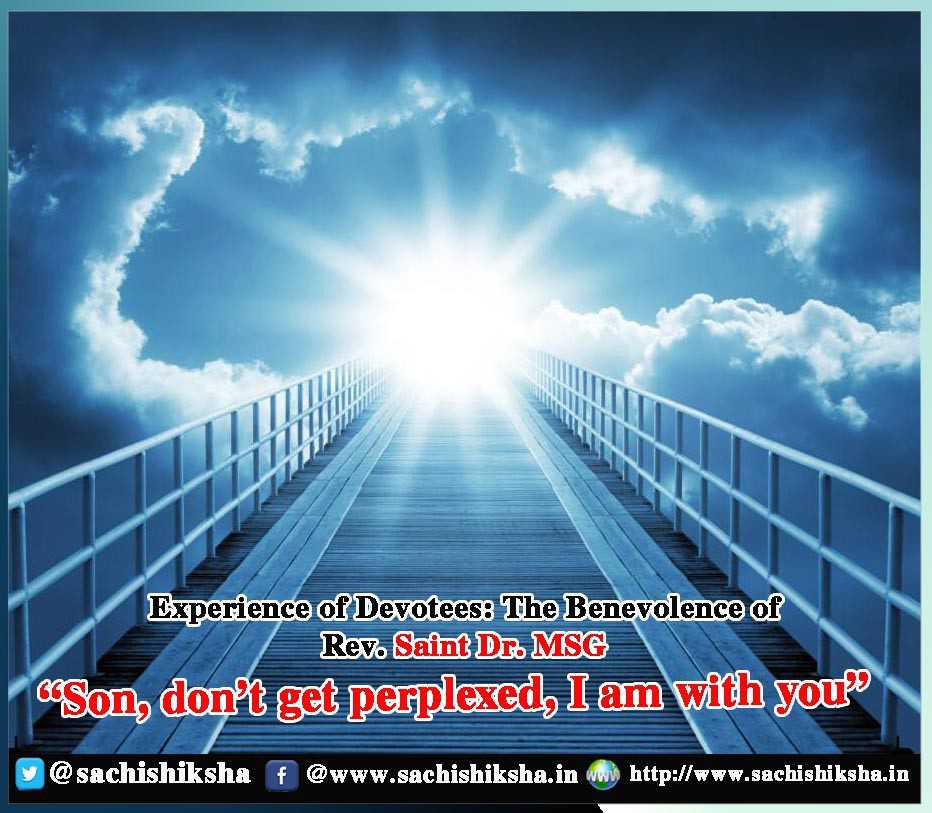 Son, don't get perplexed, I am with you
Experienceof Devotees:
The Benevolence of Rev. Saint Dr. MSG
Premi Jagdish Rai Insan, son of Sachkhandwasi Sham Lal, Mansa district, Punjab has given a vivid account of the benevolence of his Spiritual Guide Rev. Saint Dr. MSG.
On August 14, 1997 I reached Shah Satnam Ji Dham, Dera Sacha Sauda, Sirsa to have vision of Revered Saint Dr. Gurmeet Ram Rahim Singh Insan. That night I took rest at the 'Ashram' itself. The same night when I was half asleep Dr. MSG blessed me with vision. At that time, He was sitting on the Royal Stage.
I prayed to the Pita Ji that I have bought a plot for making a house. Pita Ji said, 'It is a matter of great happiness, but on September 2, 1997 you will face certain difficulties.
Don't be afraid, I am with you.' The next day on August 15 I had vision of the Pita Ji and then returned to my house in Mansa. I told my father the entire incident of the previous night. He advised me to talk to Hazoor Pita Ji at Sirsa and see what is the matter.
After that I could not talk to Pita Ji any more. On September 2, 1997 I was sleeping. When I got up my attention was diverted to my elder son. He was writhing in pain. One side of the body of my son seems to be completely paralyzed.
We immediately rushed him to a doctor when the other side of his body also stopped to show any movement. His head hung down. I told my brother he seems to be dead. We should return home now. He said, first we should take him to the doctor. When the doctor saw the patient he nodded his head as if saying no. But when we requested the doctor to do something, he gave my son an injection.
The injection was just an excuse. Actually the Spiritual Guide had already told me that there will be some problem, but not to be afraid. By next morning my some was completely alright. It was really amazing to see him recover from that incident when he seemed to be dead. The next day I took my son to the Sirsa Dera.
I told the volunteers about the previous day's happening and then met the Revered Pita Ji. At that time Revered Pita Ji was distributing gifts to the volunteers at the Teravas. I stood in the queue waiting for my turn. When my chance came I told the Revered Pita Ji the entire incident.
The Revered Guru Ji advised me to consult some more doctors and also get my son initiated into God's word. God is with you, He added. Just as the Revered Pita Ji said, I abided by His words. From that day onwards my son has never fallen ill.
Because of His great benevolence, the Spiritual Guide removed my evil deeds. I can never repay His benevolence. I shall ever remain grateful to Him. God,You are great! I can only say thanks again and again to You.
Follow us on Facebook, Twitter, Google+, LinkedIn and Instagram, YouTube to get more updates related to sachi shiksha Spiritual Magazine, articles.