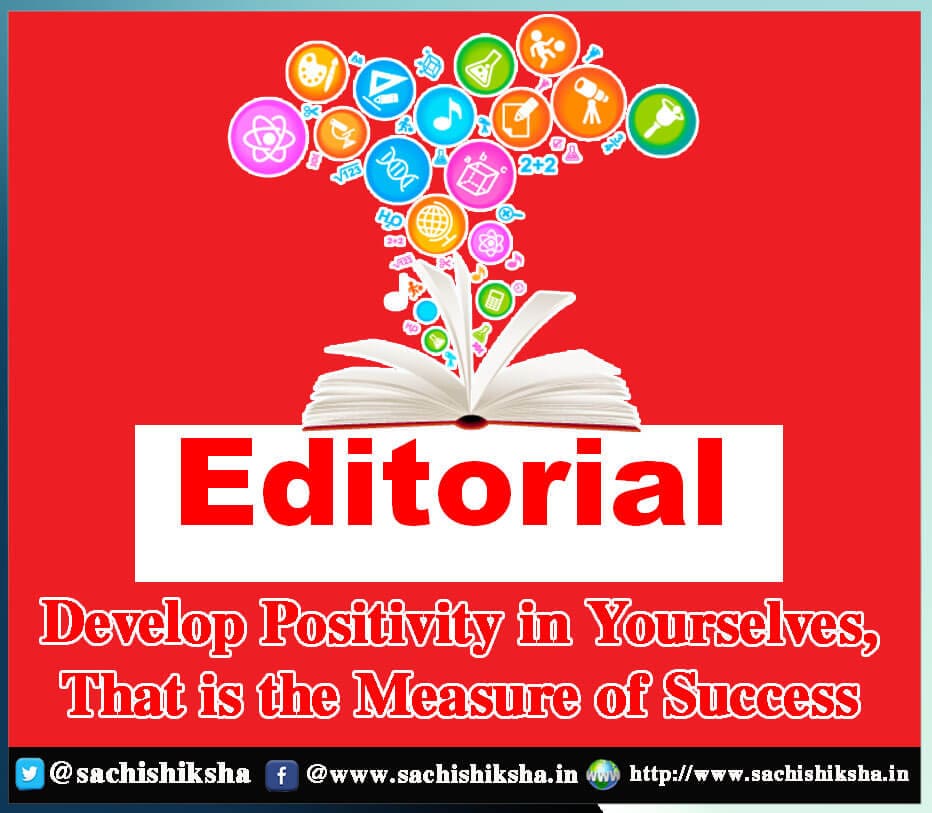 Develop Positivity in Yourselves, That is the Measure of Succes – Editorial
I will fail! I will not be able to move forward! I do not have the required courage to go ahead!I can't do this. In today's world the youth have become a victim of such negativity.
If not all, majority of the students think and act negatively these days. Even before they undertake any task, they start thinking in a negative manner.
If they try to be positive, they do not have the confidence in their abilities. Revered Saint Dr. Gurmeet Ram Rahim Singh Ji Insan recently expressed deep concern at this attitude of the youth during spiritual discourse.
He made an appeal to the youth to come out of this negative mindset and start thinking on positive lines to be successful in life. He said that when the youth form negative thoughts in their mind or when you start thinking negatively, it clearly means that your will power has become very weak.
Because of the weak will power you start thinking negatively and if there is something positive you don't have belief in that as if positive is not real at all. You will have to take the negative thoughts out of you. Only then will you be able to have trust in positivity.
If there is positivity, you will not say that something good to you may have happened by chance. On the other hand, you have trust your ability. You will be sure of your success. But before that you will have to take the negativity out of you.
How can the negativity end in the human beings? How can the self-weakness be removed? Negative thoughts come because of the weak will power. How can the human beings be positive in life? How can the human being have full faith in his positivity? Revered Guru Ji told very simple, easy and useful way to develop positivity.
By using this method neither the time will be wasted, nor will you have to drop your work. You have to adjust just a little time before you go to sleep, or before a walk or some exercise, or manage a little time before you take bath or while you are travelling. If you manage to adjust a little time just before undertaking any activity, your negativity will leave you and you will be filled with abundant positive thoughts.
You will be able to achieve all the success in the world. Revered Guru Ji said that even science accepts today that will power is the key to success in life. That method is a small 'mantra' which is told by the Peer, Fakirs, Saint, Mahatamas. You have to remember that 'mantra' and recite it. You can call it 'Gurumantra', or 'kalma', 'method of meditation' or by any other name.
The continuous recitation of the 'mantra' will completely change your life and remove all the negative thoughts. You will be filled with positive thoughts. You don't have to pay any money and do not have to leave your job or work also. You don't have to change your religion or way of life also and there will be no change of dress as well.
The only thing that you will have to do is to take out some time from your busy life to attend the spiritual congregation conducted by a Perfect Spiritual Guide. The Spiritual Guide tells 'mantra' in the religious discourse.
As a person starts reciting the 'mantra' his negative thoughts leave him in no time. You will be filled with self-confidence and will power. Your confidence and will power will take you to the pinnacle of success.
The positivist developed in you will remain with you forever and you will keep climbing the steps of success one by one by virtue of this self-confidence.
Follow us on Facebook, Twitter, Google+, LinkedIn and Instagram, YouTube to get more updates related to sachi shiksha Spiritual Magazine, articles.