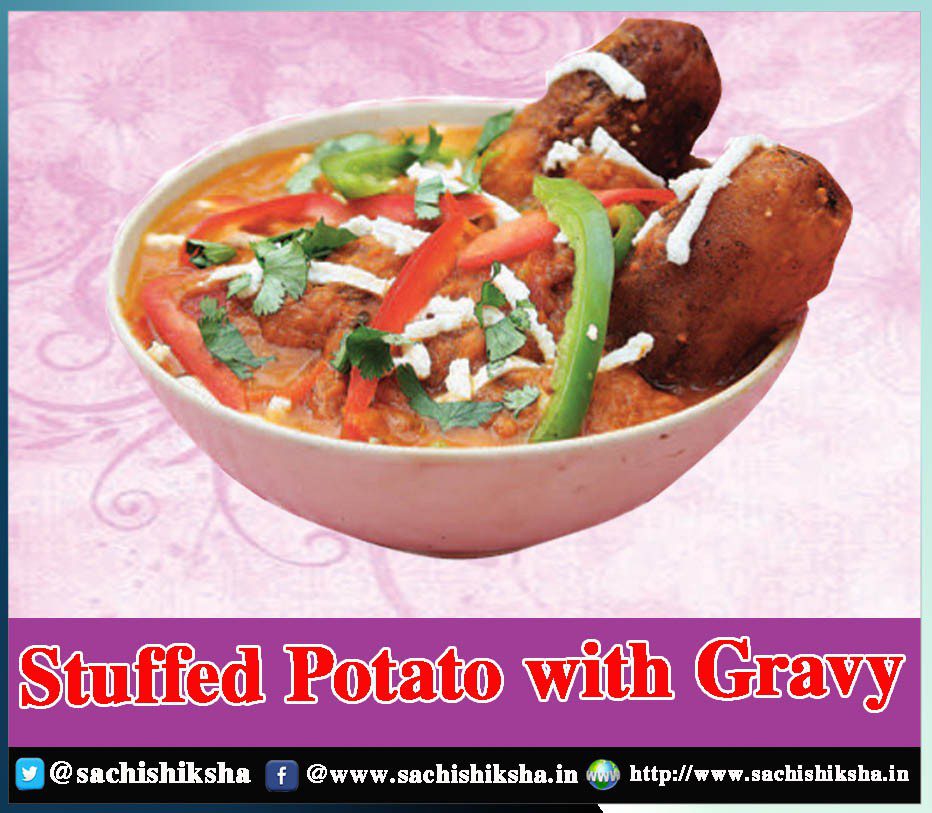 Stuffed Potato with Gravy Ingredients
250 gm of potatoes
80 gram grated cottage cheese
1 tablespoon chopped cashew nuts
1 tablespoon raisins
1 tablespoon curd
70 grams of poppy seeds
2 green chillies
1 finely chopped onion
1 teaspoon garlic paste
Half teaspoon Turmeric
Half teaspoon black pepper
Half a teaspoon ground red chili
1 tablespoon 'garam masala'
Half tablespoon green coriander
Sugar and salt according to taste
Method
Start heating oil in a pan for deep frying. Wash and peel the potatoes. Either cut them in half or just remove a little bit from the top. With a scooper or back of the spoon, scoop out the middle. You can do this with raw potatoes as there are less chances of breaking them while scooping out. Deep fry in hot oil on medium low flame till potatoes are cooked and light golden brown. Drain and keep them aside.
Once potatoes are cool enough to handle, mix all the ingredients of stuffing and stuff the potatoes till top. To make the gravy, heat oil in a pan and add cumin seeds followed by green chilies and ginger. Sauté it on low heat for about a minute or so. Now add fried onion paste, turmeric, cloves, cinnamon & cardamom. Cook for a couple of minutes, remove from heat and add the cashew nut paste and yogurt. Mix thoroughly and put it back on the gas on low flame so that yogurt doesn't split.
Keep on stirring and frying till the paste starts leaving the side of the pan. Increase the heat to high, add water and let the gravy come to the boiling point. Simmer till gravy reduces to the kind of consistency you want. When you want to serve, put the potatoes in the boiling gravy and cook for 5-10 minutes OR bake with the gravy in a hot oven at 200°C for 10- 15 minutes OR in the microwave oven for 4-5 minutes. Now serve with hot nan.
Follow us on Facebook, Twitter, LinkedIn and Instagram, YouTube to get more updates related to Sachi Shiksha – The Famous Spiritual Magazine in India.