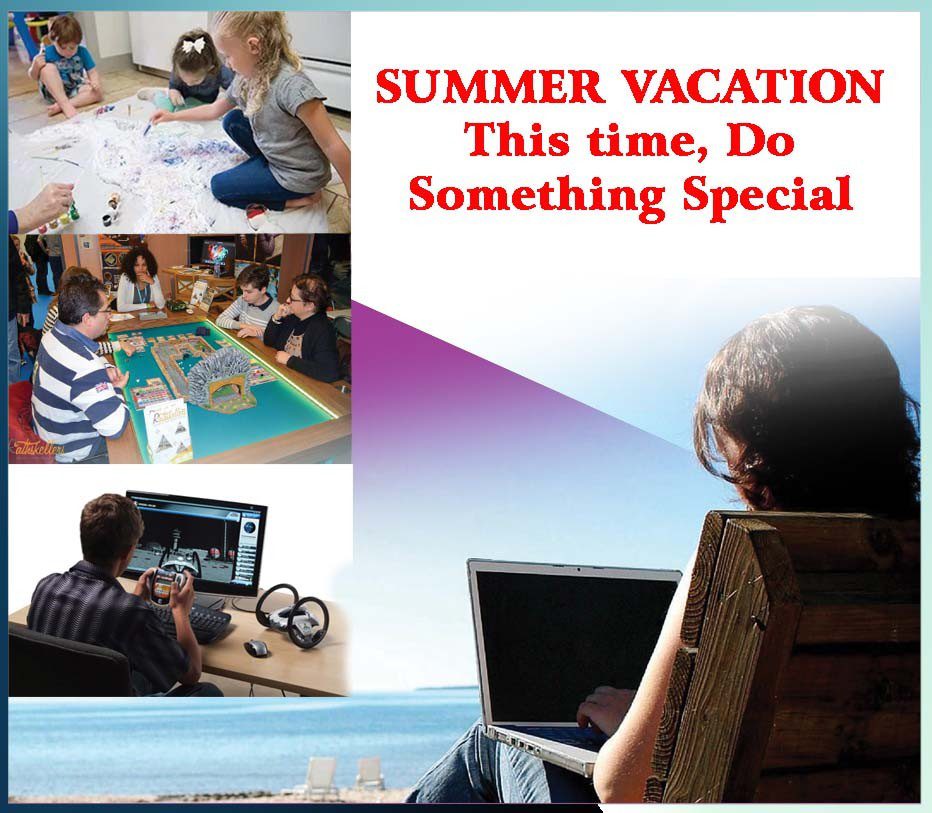 Summer Vacation This time, Do Something Special
All the problems of the children are vanished with completion of the exams.
With that, the problems of the parents increase because of the insistence of the kids to take them for outing to celebrate the completion of exams.
In this situation what should the parents do? Really the question is problematic. But every question has its answer. You must have observed that since last sometime we are becoming modern. Internet age is marching ahead fast. We can see that everyone is after internet. Big or small, boys or girls everyone is crazy for mobile, laptop and computer.
And why not, this is internet age. Why not this time the kids are given the knowledge of internet in these summer vacations. Actually internet is such a facility that gives you all native and abroad information which you already know or which you do not know at all. The only thing you have to do is to search.
Like there is a word "Search" which means that you type the thing you are searching for and it will be available within seconds and sometimes search for two three days and then you find it. The world of internet is like this. Here you have to search for information you want to gather, and you have to learn this thing in these vacations.
Let us know what you can learn with the help of internet this summer and can update yourself.
LEARN DANCING:
Children are very fond of dancing and singing. But sometimes the parent cannot send their kids to dance schools. So you can learn dancing at home through internet on the website 'youtube.com'. You try to learn good dance steps on your computer or mobile of your parents at youtube.com. You can enjoy yourself and also can add and invite your friends to join you.
COOKING:
With the help of internet, you can learn to prepare different kinds of new and delicious dishes. You may be a girl or boy, anyone can do cooking. Only need is to learn. You can learn cooking by seeing videos on youtube.com through internet. You can visit websites like www.tarladalal.com, www.indianfoodforever.com, www.kalchul.com, nishamadhulika.com, www.khanapakana.com, and you can learn a lot and can prepare good food.
READING NEWSPAPERS, MEGAZINES:
Reading newspapers and magazines is very beneficial in life. The information we get through these are very helpful to refresh our knowledge. Newspapers and magazines of every language are available on internet. By opening these websites, you can gather different types of information.
ONLINE GAMES:
If you wish to have recreation, means if you want to play new and entertaining games, internet helps you a lot. There are so many websites of online games on internet where you can play alone and also with your friends. There are thousands of online games on www.bigfishgames.com, www.miniclip.com, www.pokemon.com, www.onlinegames.com, www.zapak.com. by which you can have recreation.
TOURISM:
If your parents are not taking you out this summer, it does not matter because with internet you can reach to different tourist spots while sitting at home. Wherever you want to go, write the name of the place and gather all the information about that place. Then share the information with your friends. With this, you will be able to have all the information regarding that place and your friends will also appreciate you.
HELPFUL IN STUDIES:
In this vacation you can also get information regarding further studies. Like if you have appeared in 10th Board this time and you are likely to come in 11th class, then how to prepare for further studies and in which School you should take admission? All this information can be gathered from the internet.
YOU CAN BECOME AN ARTIST:
If you want to make new things from the waste or outdated things, internet can help you a lot. If you have a facebook account, there are so many pages there, which can teach you this art. You can become a good artist by learning from www.facebook.com/5min.crafts, www.facebook.com/craftsjunction, www.facebook.com/phoolvari .
HINA CRAFTING:
By seeing any design book pictures, you can learn a little bit of hina. But on internet there is no limit for this. You can use any search engine, or the best is that you can write Mehndi designs on google.com, there will be thousands of beautiful mehndi designs before your eyes. In addition to this, you can learn mehandi designing with the help of videos.
IN ADDITION TO THIS THERE ARE SOME OTHER TIPS ALSO. BY ADOPTING THESE YOU CAN ENJOY YOUR SUMMER VACATIONS
Take 8 gallons of water in a tub, liquid soap (with which foam can be made), one cup glycerin (available on chemist shop), let it remain for a few hours. Then tell the kids to make bubbles with straw. Really the kids will enjoy a lot.
In vacations, children can learn a lot. Let them join music and dance class. Or they can join swimming and painting class.
It is not advisable to play outdoor games in the scorching heat. Instead, ask them to play indoor games like carom, ludo or chess.
Take them to Art Gallery. They will enjoy a lot on seeing the beautiful paintings or crafts. Explain minutely and in detail every painting or craft. With this they will develop taste for that and gain knowledge.
Take the children in open place and show them coloured sketches forming and vanishing at the time of sunrise and sunset. By seeing these colours, children will be astonished.
Try to develop the taste of the children in reading and writing. For this make available the books and magazines written for children.
Give them kid story books and encourage them to write these stories in their own language. The motive behind this is to divert them to do the work of their own taste and encourage them to do creative work.
Ask the kids to cut pictures from the magazines. By joining the different parts of the picture, funny pictures can be created. For example the body of a man can be joined with cats head. Children will enjoy a lot with this.
Ask the children to make pen friends. Ask them to write a letter to a relative or a friend.
In the morning, make groups of the kids of the colony and ask them to go for a walk. Ask them to play in a ground in the evening. With this, they will be able to do some exercise and will also enjoy this.
Doing household work can also be entertaining for the kids who are bored and tired with studies. Children take active part in doing household work. In the vacations ask them to do little household works.
Give them necessary instructions, but allow them to do the work according to their own style. Surely they will enjoy and you will also be relaxed to some extent. With this, the children will get the feeling of self dependence. – R. Singhla
Follow us on Facebook, Twitter, Google+, LinkedIn and Instagram, YouTube to get more updates related to sachi shiksha Spiritual Magazine, articles.