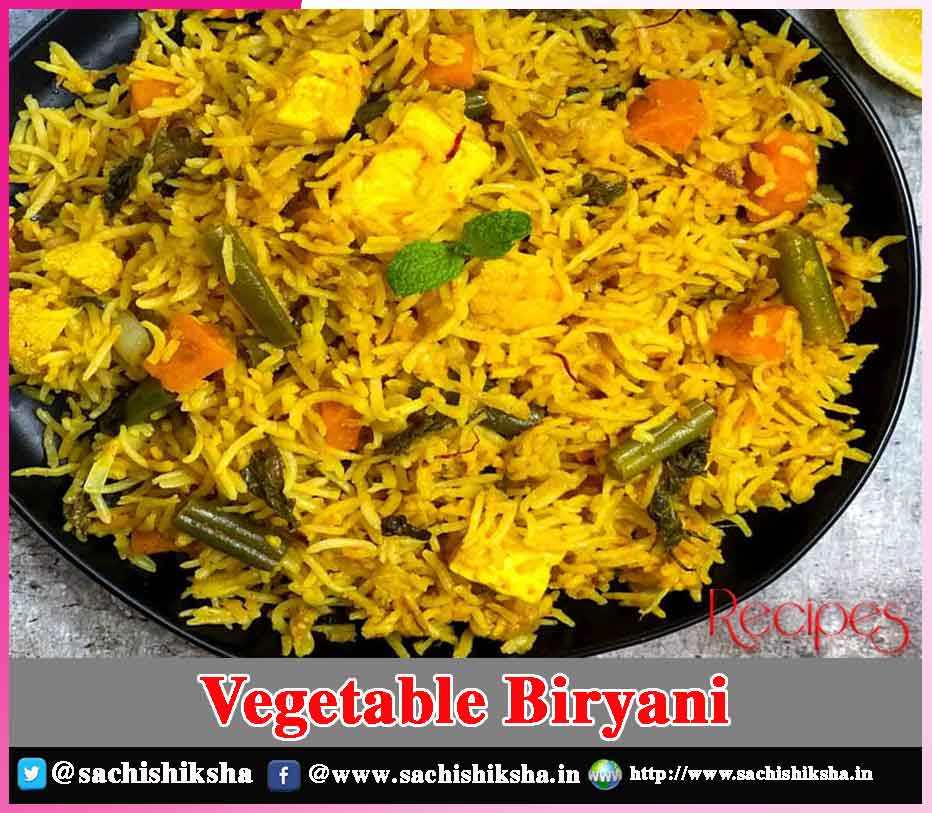 Vegetable Biryani
Also Read:
Ingredients:
Basmati rice,
two tablespoons chopped onion,
garlic paste,
ginger paste,
green peas,
chopped cauliflower,
chopped carrots,
two chopped potatoes,
chopped green beans,
Half cup of whipped curd,
cardamom,
cloves,
nutmeg,
mint leaves,
water,
ghee,
cumin,
cinnamon,
ground black pepper,
large cardamom,
bay leaves,
unsalted butter.
Vegetable Biryani Recipe:
Wash basmati rice thoroughly in water and soak it for half an hour. Heat four tablespoons of ghee in a pan. Fry chopped onion in it till it gets golden. Then take out the fried onion slices in the paper. Now fry black cumin seeds in the same pan. Then add cloves, cinnamon, nutmeg and black pepper and fry.
Add ginger and garlic paste and fry for a minute. Now add salt, pepper, butter, curd and all the vegetables and let it become soft on low flame. In a separate pan, add two teaspoons of salt to 08 cups of water and boil it. Make a bundle by tying some cloves, cinnamon, cumin, big cardamom and green cardamom in a cloth. Put this packet of spices in the water. Also mix bay leaves in water.
Boil water on low flame for about 20 minutes till you start smelling the taste of spices. Now mix rice in the boiled water. When the rice is half cooked, filter it with water and keep the rice and the remaining water separately. Mix ghee in rice and keep it aside. Place the roasted onions in a vessel, spread the rice on top. Spread the vegetables over the rice and garnish with mint leaves. Now serve it hot.