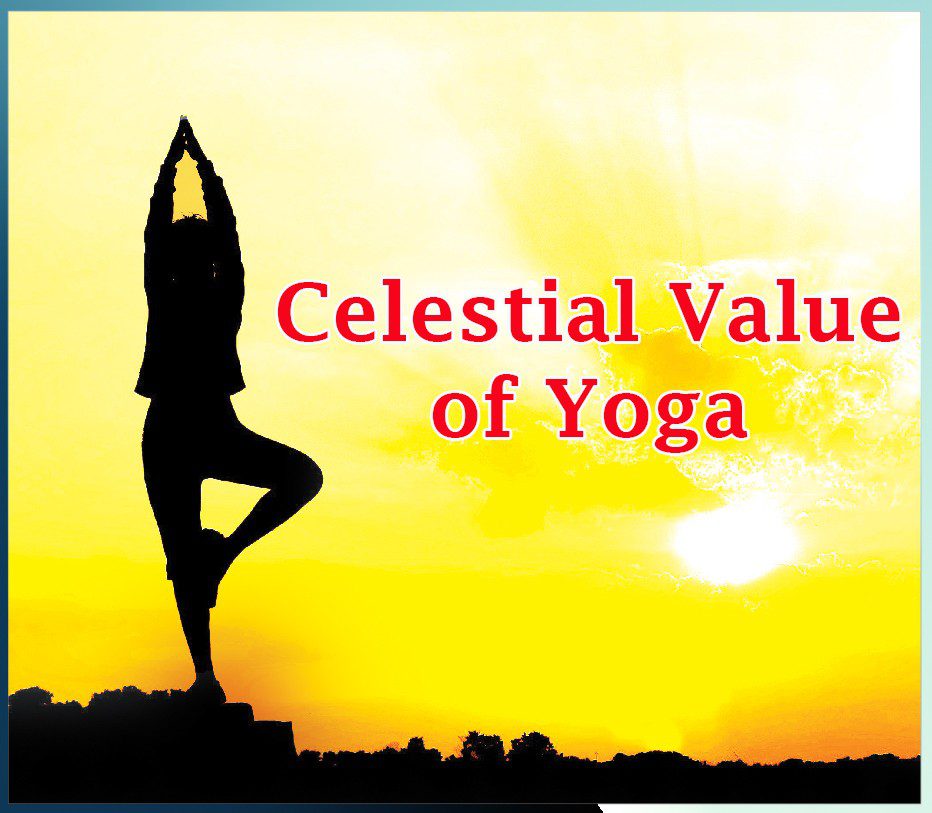 Celestial Value of Yoga
International Day of Yoga (IDY) – 21st June
Let Yoga Add Musical Aspect to the lives of the People. Yoga is the key to sound health.
It is also best medicine for many ailments. In today's speedy life, some moments come that put break to our speed. There are so many reasons around us which bring tension, tiredness, frustration and our life becomes a hazard.
Then for making the life healthy and powerful, yoga is such a unique time-tested system that can make your mind and body calm, cool and fit. By practicing yoga, you can add a virtual musical aspect to your life. Yoga is the oldest identity of our Indian culture.
In the world's oldest book, there are examples of yogik activities. Yog is above religion, belief and blind faith. Yoga is a way of leading a life.
Also Read:
The word Yog has two meanings and both are important. First is to add and second is Samadhi which means meditation. We do not reach up to Samadhi until we do not go into it. This means to reach the peak of Samadhi, heart body and soul all the three should be in a healthy position. This path can again become easy if we make yoga an integral part of our life. Yog does not teach you to trust, nor to become untrustworthy.
On the other side it is deadly against trust and un-trust that means 'confusion'. Yog says that you have the capability to know, only use that.
Initiative to observe Yog Diwas was taken by the current Prime Minister Narender Modi, in a lecture at UNO on 27 September, 2014. After that; 21st June' was declared as International Yoga Diwas. On 11th December, 2014, in UNO, 193 countries gave their consent to observe 21st June as International Yoga Day.
In 90 days time, this was passed by full majority, which is the least time for the approval of celebrating a day. The 177 countries had supported Modi's proposal.
The UNO President Saim K. Kutesa said that seeing a huge majority, it is clear that people are being attracted towards the benefits of yoga. Prime Minister Narender Modi in his speech at UNO said that for India to respect Nature is the main and most important part of Adhyatam. Prime Minister requested it to be observed worldwide.
Why 21st June
There is a reason to celebrate this day on 21st June because the day is known as Summer Sakaranti. The reason is on this day, Sun starts moving to South Pole from the North. From the Yoga point of view, this is called SANKRAMAN PERIOD, hence this is the best time for transformation. More to that 21st June, is the longest day of the year. Nature, Sun and its aura is most effective on this day.
Dera Saccha Sauda's remarkable contribution and Award:
Whenever there is a work for noble causes, Dera Saccha Sauda always remains in the forefront. In the field of Yoga too, Dera Saccha Sauda has made records. Revered Saint Dr. Gurmeet Ram Rahim Singh Ji Insaan has already started Yoga classes in Shah Satnam Ji Educational Institutions from the year 1994-96.
By the coaching and training of Revered Saint Dr. Gurmeet Ram Rahim Singh Ji Insaan, the students of Shah Satnam Ji Educational Institutions played International Yoga for the first time in 2001. Till today 11 international students have been provided to the nation, by Shah Satnam Ji Educational Institution.
These 11 yoga players have represented the nation (India) five times for Asian Yoga Championship and 8 times for International Yoga (means 13 times) . In this 46 medals were for the Asian Championships and 71 medals for the World Championship.
This means Shah Satnam Ji Educational Institutions have gathered 107 medals and that too only from Sirsa Educational Institutions. And this is only because of coaching and encouragement of Revered Saint Dr. MSG. On 29th April, 2016, on the eve of Spiritual Foundation Day Celebration,
Yoga Federation of India, Asian Yoga Federation, International Yoga Federation and International Yoga Federation for Sports have awarded Revered Saint Dr. MSG for the best coaching of yoga ever which is a matter of proud for the whole country.
Follow us on Facebook, Twitter, Google+, LinkedIn and Instagram, YouTube to get more updates related to sachi shiksha Spiritual Magazine, articles.