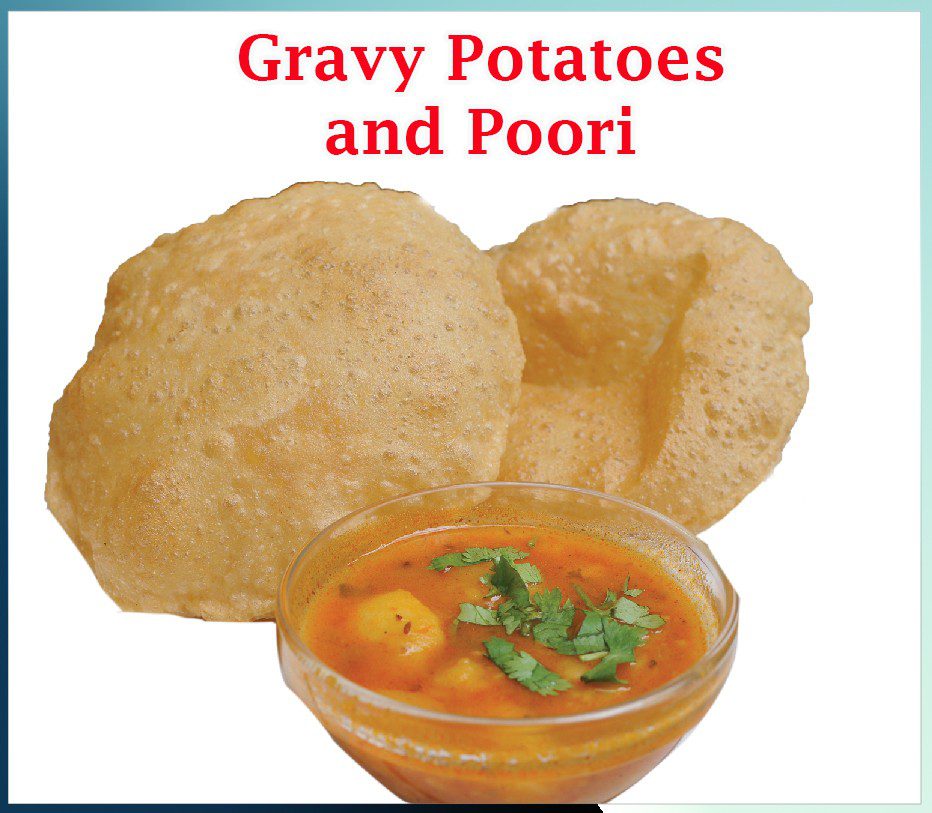 Gravy Potatoes and Poori
Ingredients:-
Potatoes-half Kg,
Piece of ginger-2 inches,
10-12 cloves of garlic,
Medium size tomatoes-2,
cumin seeds-one spoon,
Kasuri methi-one spoon,
Salt and red chilies as per taste,
oil-one serving spoon.
Method of preparation:-
Prepare the paste of garlic and ginger. Pour oil in the cooker and also drop the ginger-garlic paste. When it turns light brown, mix the paste of tomatoes. Mix and stir all the condiments. Chop the potatoes into small pieces and drop them into the mixture and also pour two glasses of water, in it. Switch on the gas and when you hear 4-5 whistles from the pressure cooker and mix the potato and gravy properly. The gravy Potatoes is ready.
Poori:
Ingredients:-
Wheat flour-half kg, washed pulses of urad-250 gm, one spoon king's cumin, Ghee-one service spoon, Oil to fry.
Method:-
Soak the urad pulse for the whole night. Grind it thick in the morning. In the flour, drop pulses, Ghee, Salt, king's cumin and knead it. The flour should not be kneaded loosely. Kneading should leave it hard. Now, heat up the oil in a pan and roll out medium sized pooris and fry them. The pooris and gravy potato are ready. Serve it hot with the family and savor the taste. Important thing to note is that serving poori hot is necessary, otherwise they will not remain so tasty.
-Monika Insan,
Shah Satnam Ji Nagar, Sirsa
Follow us on Facebook, Twitter, Google+, LinkedIn and Instagram, YouTube to get more updates related to sachi shiksha Spiritual Magazine, articles.