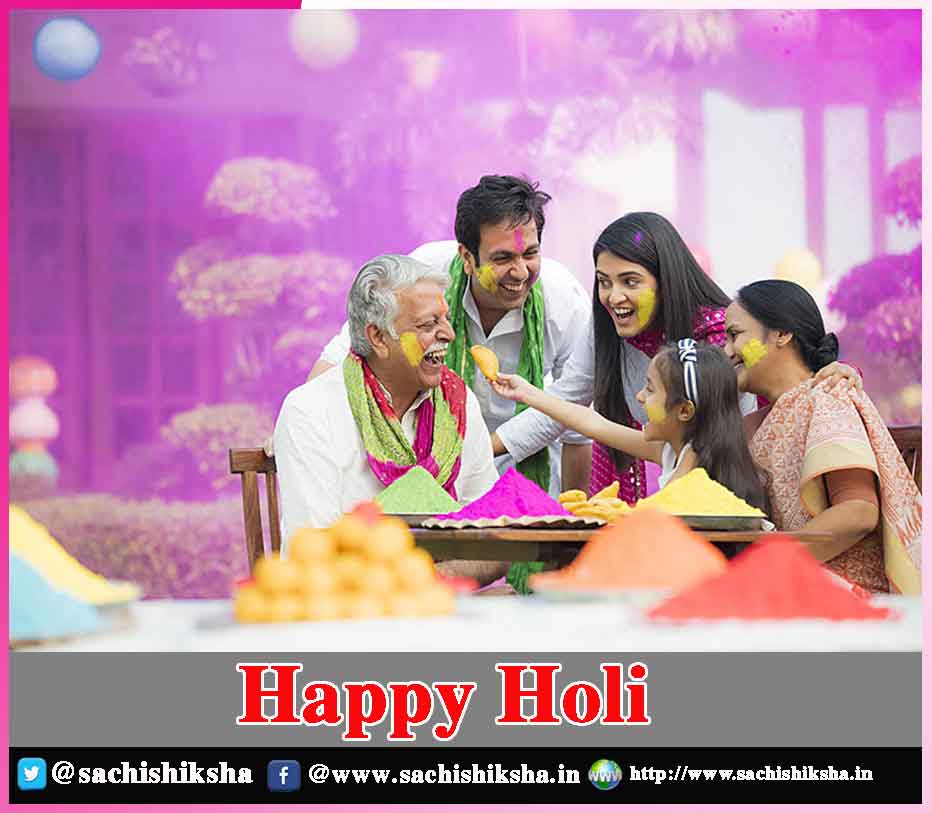 Holi  The ancient Hindu festival of colours heralds the end of winter and beginning of spring.
It is celebrated every year on the last moon in the Hindu lunisolar calendar in the month of 'Phalgun' that generally falls between February-March.
Celebrants light bonfires, throw colourful powder called 'Gulaal', eat sweets, indulge in fun & frolic, dance to traditional folk music and sip a traditional drink called 'bhang', which is made of cannabis.
Also Read:
Holi rituals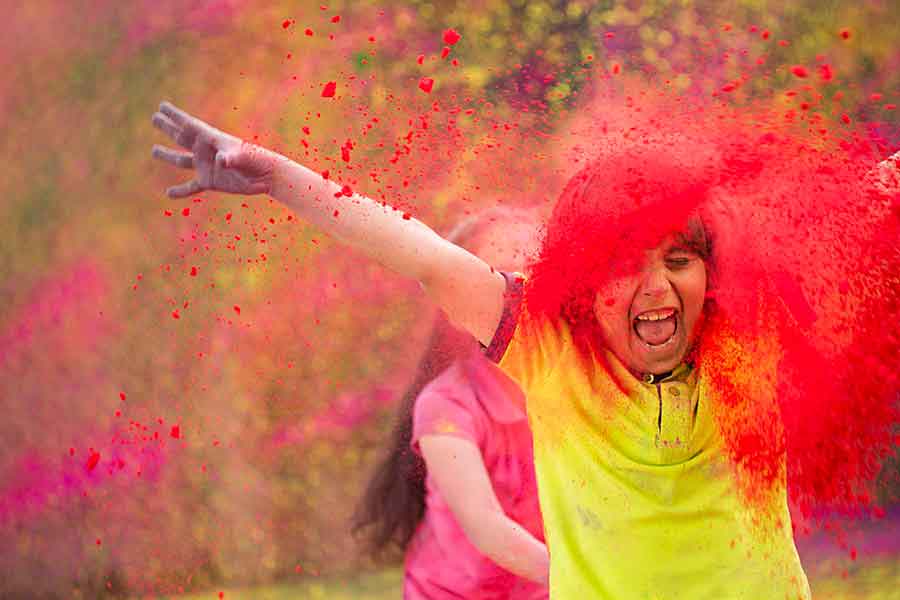 last two days beginning with the destruction of evil symbolized by a bonfire on the first day and ending with a festival of colours, prayers, music, dance, food and blessings on the second day. The first day is known as Holika Dahan or Chhoti Holi. The second day is known as Rangwali Holi, Dhuleti, Dhulandi or Dhulivandan.
This is a Hindu spring festival
that is celebrated by millions of people from various cultures and regions in India and Nepal. However, it is awaited eagerly even in the United States, Germany, Mauritius, Fiji, Guyana, Trinidad and Tobago, the Philippines and Surinam.
The University of Sussex, Georgia Southern University, University College London and University of Dundee host exciting celebrations for the festival of colours and fun. This day is a public holiday in India, Nepal, Guyana and Surinam.
Every festival in India
has been inspired by some legends. The story goes that demon king Hiranyakashyap forbid his son Prahlad from worshiping Lord Vishnu, but Prahlad persisted. So the king ordered his sister demoness Holika (who was immune to fire) to sit on a pyre along with Prahlad. But when the pyre was lit, Holika burnt to cinder and Prahlad miraculously survived.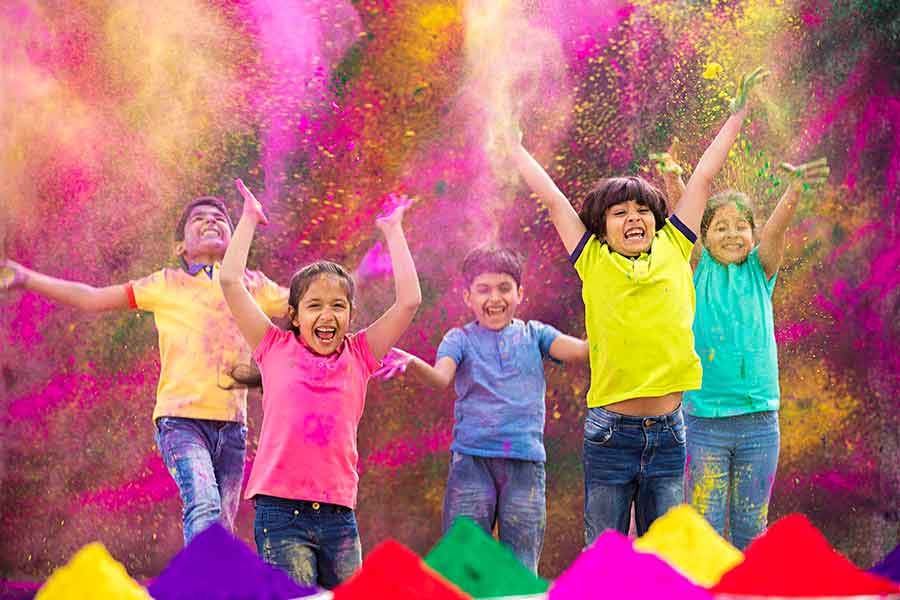 So, Holi celebrations serve as a reminder of the triumph of good over evil, reflecting the Hindu belief that faith and devotion leads to salvation that can be attained by everyone who believes in & worships God. Even today, on the first day of this two-day festival, a bonfire is lit in the evening called 'Holika Dahan' (meaning the burning of Holika).
Other legend behind the origin of Holi is that Lord Krishna as a baby was poisoned while being breast-fed by demoness Putna, and thus, He developed the characteristic blue coloured skin. Krishna worried that His fair-skinned consort, Radha, would no longer hold affection for Him.
When He complained to His mother Yashoda, she teasingly told Krishna to paint Radha's face in whatever colour He chose. Hence, the tradition of trying to 'colour' others is a sign of affection on Holi.
Families across India
lovingly prepare 'gujiya', a dumpling-like sweet that is filled with dried fruits and nuts spiced with cardamom. Countless variations exist, but common fillings include pistachios, cashews, coconut, and raisins, which everyone enjoys during the bonfire. This is accompanied with rituals and prayer.
Every state in India
has its unique ways of playing or celebrating Holi. Also, the meaning for  every community changes behind celebrating this festival of colours and happiness. For some, Holi is a pure festival of love and colours as celebrated by Radha and Krishna – a kind of love that has no name, shape and form. Others see it as a tale about how the good in us still triumphs over the bad. For others, Holi is a time for leisure, frolic, forgiveness and compassion.
It is celebrated in one form or the other across 28 states in India. In Uttar Pradesh, the women of Nandgaon (home of Lord Krishna) attack the men from Barsana (hometown of Radha) with wooden sticks, responding to their efforts to throw colour. Certain groups focus more on the solemn, religious aspects.
Traditional Holi celebrations are the biggest in Braj region of Uttar Pradesh. It is believed that Shri Krishna was born at Braj, which celebrates the festival of colours for 16 days. Mathura and Vrindavan are also at the centre of this region. The festivities extend for more than a week there. Rajasthan is a popular Holi destination particularly Pushkar, Jaipur and Udaipur.
The ritual involves people singing and dancing and walking around the bonfire three times. In some parts of India, people even walk across the hot coals. Such fire-walking is considered to be sacred. One place where it happens is Saras village near Surat in Gujarat. Local priests in Falen village, near Mathura in Uttar Pradesh, have been walking through the raging fire unscathed for hundreds of years. Since they don't get hurt, they're considered an incarnation of Prahlad and blessed by him. The priest admitted that he undertakes a lengthy period of meditation and preparation before the remarkable feat.
Like Holi, Dol Jatra celebrations in West Bengal and Odisha are dedicated to Lord Krishna. However, the mythology is different. The festival celebrates the love that Krishna is believed to have expressed to Radha on that day.
Idols of Radha and Krishna
are carried around in procession on specially decorated palanquins. Devotees take turns swinging them. The idols are smeared with colours and it's thrown at people on the streets too. Festivities begin six days beforehand on Phagu Dashami. Back in the day, 'gulal' was made from flowers, spices and other natural materials like the brilliant Indian Coral Tree, offering medicinal properties and benefits for the skin.
Natural colours are derived from indigo, sunflower and marigold flowers. Colours hold special significance. Blue represents Krishna while red symbolizes love, fertility and matrimony, green stands for new beginnings, yellow marks the rejuvenating qualities of turmeric.
Different names of Holi
in different states are: Uttar Pradesh (Faag & Lathmaar Holi), Uttarakhand (Khadi Holi), Punjab (Hola Mohalla), West Bengal (Basant Utsav and Dol Jatra), Goa (Shigmo), Manipur (Yaosang), Kerala (Manjal Kuli), Bihar (Phaguwa), Assam (Phakuwah), Madhya Pradesh & Maharashtra (Rang Panchami) and Rajasthan (Royal Holi).
To conclude,
Holi may be traditionally a Hindu festival, but everyone is equal during this holiday. Colour hides all class lines, caste system disappears and foreigners join the locals. It is a great occasion for people from different religious communities, castes, colours and creeds to come together, strengthen their bonds and also mend their broken relationships.