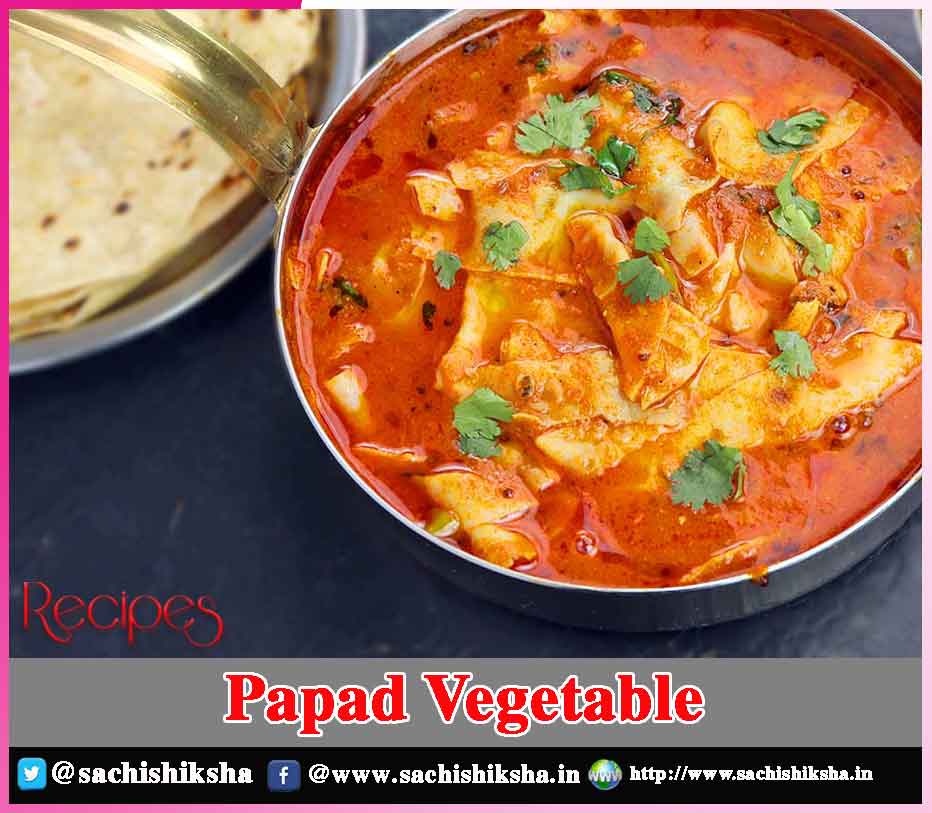 Papad Vegetable
Also Read:
Ingredients:
 Urad Dal Papad 2-3;
 Oil: 3 tsp;
 Cumin 1 tsp;
Mustard seed 1;
Bay leaves: 1,
  Asafoetida: 1 tsp;
Onion puree 1/2 cup;
Tomato Puree: 1/2 cup (2 tomatoes) );
 Coriander Powder 1 tsp;
Turmeric Powder : 1 tsp;
 Red Chilli Powder 1 tsp;
 Salt as per taste;
 Curd : 2 tsp& Garam Mashala : 1 tsp
Method of Preparation:
First of all take a pan and put oil in it. Then add cumin, mustard seeds, asafoetida and bay leaf and fry till it becomes golden in color.Then put onion puree in it and fry it. When the onion is fried, add tomato puree to it and add coriander powder, turmeric powder and red chili powder and fry for 5 minutes.
It takes some time to roast the masala, so till then roast the papad or fry it.When the masala is ready after roasting, then add some water to it and mix it. Then add garam masala, curd and salt as per taste and cook it for 2-3 minutes.
Now break the papad in it and add chopped coriander leaves and mix it and switch off the gas.Papad curry/vegetable is ready. You can put it in a serving bowl. Take out and serve the papad vegetable with tandoori or tawa roti.