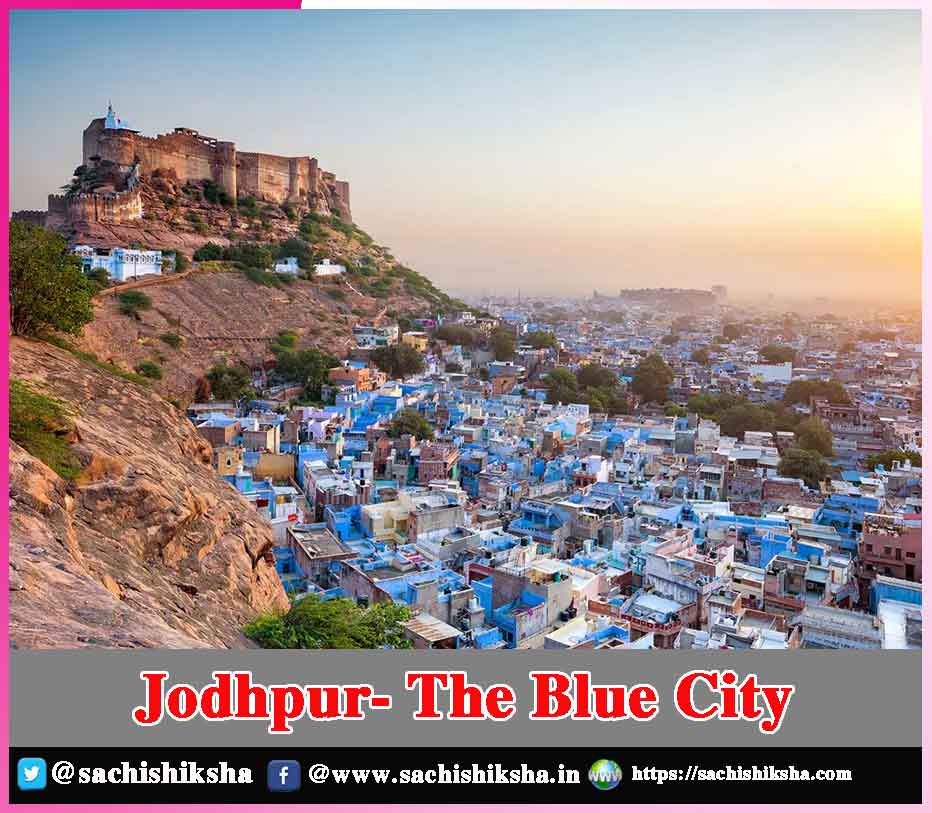 JODHPUR-THE BLUE CITY
Introduction:  Jodhpur, which was earlier named as Marwar, was the capital of the Rajput rulers. It has a vast history of different customs as well as traditions that are still followed.
Also Read:
Location & Features: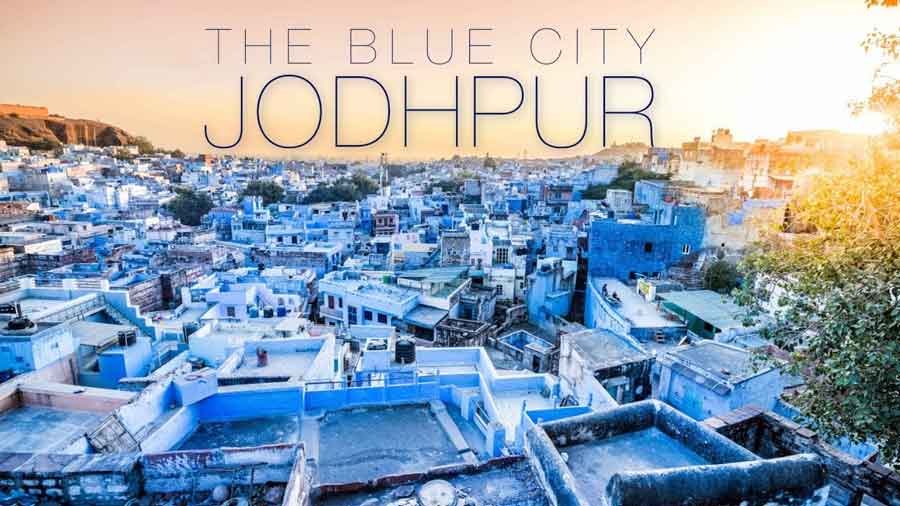 Jodhpur is situated on the western side of Jaipur, the capital city, and is the second largest city in the state of Rajasthan. It has beautiful forts, magnificent palaces, and traditional temples and is considered as a famous tourist destination by travelers.  It is situated between the stark landscape of Thar Desert and it has sunny and bright weather during all 12 months of the year.
That's why the " sun city" name is also given to Jodhpur. A unique feature of this city is that every house situated around the Mehrangarh fort is blue in color because of which the city is famous by the name of the blue city. It is the main city of the state of Rajasthan and covers an area of approximately 22,850 sq km. it has well connectivity of rail, airways as well as roads. Jodhpur reflects the heritage of Rajasthan as well as its golden history and is positioned at the fringe of the Thar Desert. Jodhpur Was discovered by Rathod rulers in 1459 AD.
Famous Festivals & Sources of Entertainment:
Some festivals which are celebrated in Jodhpur include Nav Sati, Marwar festivals, Gangaur, Nag Panchmi, Holi, Veerpuri fair, Diwali, etc. These festivals imparts huge enthusiasm and charm to the residents of the city and Jodhpur is decorated beautifully which attracts tourists from all over the world to have its look. The local folk music and dance are performed at night which is a major source of entertainment for the tourists.
The Royal Sport:
The royal sport of Jodhpur has been polo and people who love polo visit Jodhpur to take part in different equestrian sports which are organized in the city. The city is quite famous for glass bangles, the furniture industry, carpets, marble goods, handicrafts, and also a variety of unique food items.
Local Cuisines:
Tourists are bound to taste various local cuisines that are available at local restaurants. Some of the popular food items include Jaggery, makhaniya lassi, lasan ki chutney, Bengali rasgulla, mawa ki kachori, baajre ka sogra, ghevar, halwa, mirchi ka kutaa, motichoor ke laddoo, ker sangria sabzi raab, ras malai, Makhan bada, kachara mirchi sabzi, etc.
Popular Places of the City:
The city of Jodhpur is colorful and has a vibe of glory, beauty as well as romance. The city has witnessed love affairs as well as civil wars which are reflected in the wealth and power of the city. Some popular places which can be cherished by tourists include Jaswant Thada, flying fox,
Umaid Bhawan Palace,
Bhim Bhirak Cave,
Kaylana Lake as well as garden, Mehrangarh fort museum,
Raj Ranchhodji Temple,
Rai Ka Bagh Veer Durga Das Smarak,
Balsamand Lake,
Umaid Garden,
Palette Raj Garden,
Siddnath,
Osian Temple,
and Tatanada Ganesh Temple.
Some popular markets of the city are Lakhera Bazaar, clock tower Sarafa Bazaar, Nai Sarak, Mocha Bazaar, Sardar Market, etc.
Let's discuss major tourist destinations in detail:
Jaswant Thada
It is a white colored memorial that was built at end of the 19th century with the purpose of paying tribute to leader Jaswant Singh. Jaswant Singh ruled the city and invested a lot in it. He tried to reduce crimes and dacoit in the city. He also made attempts to increase the economy of the region and built the network of the railway.
MMT which is also known as Mehrangarh Museum Trust manages Jaswant Thada. It also includes a museum that shows portraits of rulers of Marwar with pieces of information for a deep explanation of the history. The ground of Jaswant Thada is used for concerts during the Rajasthan International  Festival.
Umaid Bhawan Palace
This was constructed in the year 1929 by Maharaja Umaid Singh. it was also called as Chittar Palace because stones of construction were brought from Chitter hill. It was designed by a popular British architect called HV Lanchester. Umaid Bhawan Palace took sixteen years to be constructed. The marbles and sand stones reflect the mixture of western art deco, Indo-Saracenic, and classic revival styles.
Ghanta Ghar
This place is also named as the clock tower of Rajasthan and is located on the busiest street in the city of Jodhpur. This was built by Sardar Singh ji.
Khejarla Fort
This fort is positioned 85 km away from the main city in a rural area and is 400 years old. This beautiful monument has now transformed into a hotel that reflects Rajput architecture.
Sheesh Mahal
It is located in the Mehrangarh Fort and is made up of glass. This stunning architecture is made up of mirror walls and sharply painted religious paintings.
Chamunda Mataji Temple
It was the favorite goddess of Rao Jodha. That's why her idols were kept in the Mehrangarh fort. So, it became a pious place for worshipping and got transformed into a temple. The tradition was raised among local residents of Jodhpur to worship Chamunda Mata and to date, she is considered the adopted goddess of the royal family and maharajas.
Moti Mahal
It is a hall made of pearl. This hall has five nooks and glass windows which allow the queen to hear the proceedings happening on the royal throne of the city.
Phool Mahal
It is called flower Mahal or Phool Mahal and is the most beautiful place of Mehrangarh Fort as it is the pleasure dome of the kings. It has been constructed with gold that came from Ahmedabad, Gujarat.
Government Museum of Jodhpur
This museum is situated in the Umaid Garden and has a tremendous collection of textiles, armouries, paintings, local crafts, manuscripts, etc.
Ranisar Padamsar
Ranisar and padsmasagar are two lakes that were built in the year 1459 near the Fateh Pole in Mehrangarh. Padamsar Lake was built on the order of the daughter of Rana Sanga of Mewar that is queen Padmini and lake Ranisar was ordered by the wife of Rao Jodha.