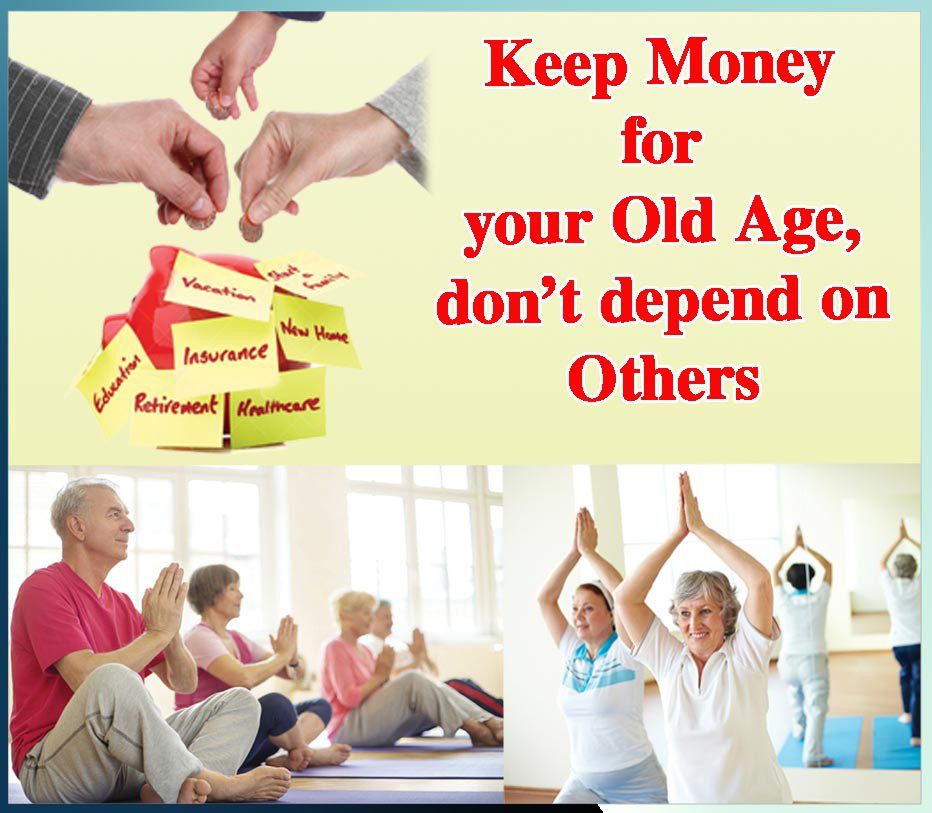 Keep Money for your Old Age, don't depend on Others :
In today's era, there is a breakdown in relationships. As long as man is earning, he is asked by others all the time. But as he retires and stops working, he is neglected by his own family.
His own life seems to be overwhelming to him. Even in the joint family, they still live life, but they become burdened in a nuclear family.
Today it is now the situation that if the parents have one or more children than it becomes difficult to decide who will keep their parents. Parents put everything in their care for the upbringing of their children, but all children cannot care of their parents together too.
The old age depends on the economic condition of the person. If parents give everything to their sons, they will surely find suffering and have to face problem. If they hand over all the things to their children, they have to stretch their hands ahead of their children to fulfill every small need, which is not appropriate.
Apart from all this, people have to face many problems in old age, whereas if some arrangements have been made for the future when you will be in old age, from the time of youth, then there will be no need to face difficulties ahead. In the run-up to the present and busy lifestyle and inflation, nowhere it has been an essential thing that a person should make such arrangements in the old age that neither he himself is burdened nor his children are burdened by you.
In the family love, affection, feeling of belongingness is right to an extent, but nobody knows about the time to come. It is therefore necessary to make good arrangements.
Nowadays there is an era of education and awakening. In it, from now only, tries your best with good education, information and efforts so that you're future and future of your children will be bright. It should not be that you forget your time and remain busy for securing your children future now and repent in the future that I have nothing for myself.
Then there are some tips here, which you can now remove from your future concerns by adopting these things in your life:
Pension plan
You should make such arrangements that you do not have to depend on anyone in the future. Those who are government employees, they will get good pension after their retirement, but those who are doing private jobs can get a pension. For this, open the account under APY i.e. 'Atal Pension Scheme' in your bank and start saving as per the bank term. This is a pension plan, which you will gain after the age of 60 years. You can get detailed information about this from the bank.
Health Insurance
Currently, many companies offer health insurance schemes. You must have a health insurance right now as per your earnings. You will get the benefit of this insurance if you are suffering from a serious illness. God may not do it, but nobody knows anything what will happen in the future. But pre-arranging arrangements can prove to be beneficial for us.
Life Insurance
The insurance market has increased significantly. In such cases companies are offering various beneficial plans to their clients.
LIC Life Insurance, Tata Alliance or many other companies provide opportunities where you can get fixed amounts after a certain time of period. There are several such schemes, where anybody is dead in Accident or on the person's Natural death also, the company gives the insurance amount to the relatives.
You can meet the company's agents for detailed information about these. But you should be careful that insurance companies must be certified by the government of India. Do not get insurance in a fake or any other company.
Saving plan
In the banks, post offices, etc. you must have deposited some rupees every month under the Savings Scheme for the future. If you can save as much money as per your earnings, keep them in the savings account. You will not have to face problems in the future time.
Maintain loving environment in house
Always maintain a loving and pure environment in your family. If you are the eldest in your house, then it is your responsibility that you take the whole family together. Keep your image different from others in the house, so that everyone will respect you, by heart. Be careful and keep understanding in choosing relatives, so that you do not have to face problems in the future.
Keep yourself busy
Keep yourself busy in the family and friends. Taking the grandchildren at school, help them in doing their homework, shopping for greasy stuff, keep maintain your relationships or keeping in mind the smallest needs of the family, than definitely you will be respected in your home.
Apart from it, keep in mind the followings
If your children ever need money, do not refuse to give them, because if you help them in their typical situation than it will increase your respect for your children in the mind and you too will not be considered burden, but this does not mean even that you should give all the deposits to them.
Therefore, parents should keep their own savings for future time. If you are a businessman, then keep maintain your business and if you are a job seeker then continue doing a small business side by side, so that income is maintained and the family does not understand you as a burden.
If you are a woman then keep working on kitchen, etc. so that you keep your grip on the family, but if you are weak or not able to do anything then you should treat in a polite way with children, and daughters-in-law. Do not use your rights. Do not be angry or get frustrate over son, daughter-in-law or grandchildren.
If possible, do not depend on anyone for the coming days. Arrange for the expenses of your old age already and do not discriminate about your income and property to the sons and daughters, so that they remain confused and will respect you. As long as you have private money and authority, your honor is safe, old age is safe. You will be respected by all the members of the family. – Aarti Rani
Follow us on Facebook, Twitter, Google+, LinkedIn and Instagram, YouTube to get more updates related to sachi shiksha Spiritual Magazine, articles.