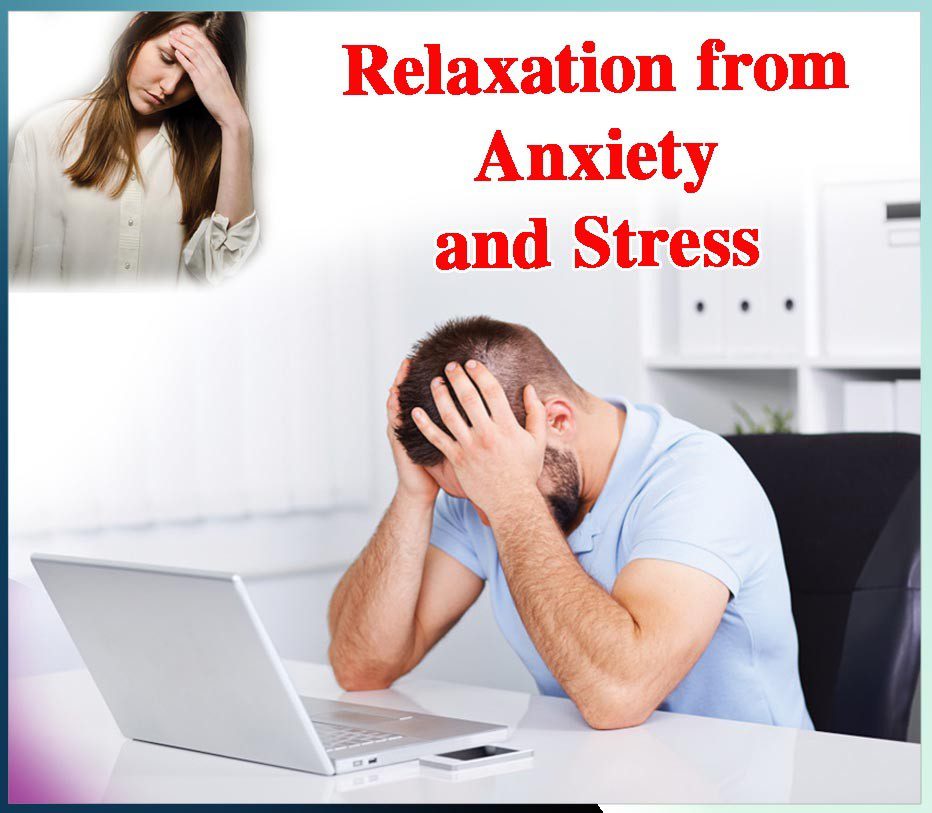 Relaxation from Anxiety and Stress :
Relaxation skill is the pleasing method, process, procedure and activity that helps a person to attain a state of increased calmness to reduce the level of stress and anxiety.
The management of human life must involve superb thinking, planning, actions and proper utilization of resources with positive aspects to achieve maximum favorable results.
These achievements should be analyzed in different situations and even revised for further progress. Relaxation empowers physical strength, increases energy and attention, helps to relieve body pain and illness, resolves many psychological problems and boosts inspiration and moral status.
It is better if we consider our specific needs, preferences, and fitness and discard stress to achieve desirable relaxation.
Also Read:
Challenge of Anxiety:
Anxiety is a concern of worries, nervousness (a group of mental disorders), unease, fearfulness, disturbance, tension and agitation when faced with problems at work, before taking at test or making important decision.
Anxiety causes many disorders like panic, irregular heartbeat, worries, embarrassment, muscular tension, mental illness and even cancer. Another description reveals agony, terror and apprehension. Anxiety disorders may run in families and can be hereditary.
Extremely anxious persons may think of committing suicide. No doubt that anxiety interferes with our ability to lead normal life but we can manage the ill effects through confidence, art of relaxation or even slight treatment.
The psychiatrists and other mental health professionals can diagnose the reasons and extent of anxiety through counseling and certain assessment tools. The problem can be reduced with treatment of positive behavior, life style changes, dietary adjustments, simple medicines to relieve depression. Every person should take proper balanced meals, discard alcohol and caffeine, get sufficient sleep, perform daily exercise for good health, follow positive thoughts and contentment, use calming visualization and spare time to perform voluntary social service.
Manage relief from Stress:
Stress is the major cause of depression which represents a state of sadness, dejection, lack of enthusiasm or hope. The affected person becomes engrossed in sorrows and hollowness. It causes ill effects on body, thoughts, feelings and behavior. It brings many health problems such as high blood pressure, heart diseases, diabetes and obesity.
A stressed event can trigger 'fight to flight' response causing over secretion of hormones like adrenalin and cortisol to surge through the body. Too much of adrenalin makes the body over excited, afraid and angry with increased heart beat.
Adopt positive possibilities. Observe to control the real, virtual and sufficient energy of your disappointment and transform it to positive, effective and unstoppable determination. Overcome inadequacy; carry on forward movements without reluctance towards a glorious future. The word 'desserts' (Sweetness) is the opposite form of 'stressed'.
Methods to achieve Relaxation:
Concentrate on balanced diet and bio-feed back.
Realize on yoga and daily exercise, may be in the form of simple walking, cycling or gardening.
Promoting relaxation through massage, acupuncture and myo-therapy.
Self assessment and improvement through good habits and inspiring behavior.
Think and thank to all you have good links of relations and friendship.
Auto-suggestion and prayers. Adapt transcendental meditation techniques to achieve visualization of Spiritual Master.
Contentment is the appreciation of what you already have; it is not the fulfillment of what you wish to have. It is natural wealth, whereas, luxury is artificial poverty. Thank God for all that He has given you.
Truly dwell on as per present situations and plan for fruitful future. Do not repent on the failures of past.
Do not worry on the progress made by others. Think that God has blessed you and others with kind grace.
Make notes on your daily achievements and other happenings. After all, a short writing is better than a long memory.
Try to affirm only those promises you can fulfill without tension.
Develop good habits with positive attitude. True character is what you are in solitude. Seek occasional solitude because better thoughts are the source personal power.
Offer flower bouquets to the persons you love for no special reason.
Joy shared is joy doubled, sorrows shared are sorrows halved.
Do not speak ill of any person and speak good of everybody.
Acquire virtuous qualities of humility, courage, universal brotherhood and respect for all religions, kindness, tolerance and innovative spirit.
Rejoice because thorn bushes have roses instead of complaining that rose bushes have thorns.
Try to seek the blessings of your spiritual guide when you are feeling down. Accept your faults or shortcomings.
Advantages of Relaxation:
Relieve from stress and depression by overpowering the evil situations.
Improve breathing, cardiac health and normalize blood pressure.
Anger management, rescue from headache and body pain.
Elevate immune system to elevate the status of body to prevent and fight diseases.
Prevent insomnia, preparation for artificial sleep; never create fear from night dreams.
Progressive muscular comfort and body strength.
Provides relief during pregnancy and child birth.
Achieve the bliss of excellence in family life.
Earn social status through amiable behavior.
We should train our mind to observe stability in every situation so as to perceive that our life has more to offer.
Everybody cannot be a captain, somebody has to be crew. Happiness is found along the way and not at the end of road. Life is succession of moments to live each one is to succeed. You have done it before and you can do it now.
Creativity is the ability to produce new things, using skill and imagination.
If you want to achieve the goal, you have to move steadily towards it with will, patience and perseverance.
Spiritual Relaxation:
Get up, rouse from sleep, be awakened and try to seek the divine bliss. Approach the Lord in the spirit of total surrender, with full faith and deep reverence. Be sure that He can elevate you out of rot without much delay. Peace of mind is the prime need of every human being because it is the precious jewel in a man's life.
Regular prayers and meditation transform human vices, such as, anger, lust, greed and ego to patience, respect, love for humanity and humility. A sense of calmness and tranquility gets instilled in mind. Tension, stress and distressing factors stay away.
More so, every meditating person develops positive thinking even in conditions of pain, grief and sufferings. The Spiritual Guide can raise the level of consciousness in aspirant by more glances in no time, if he is the perfect master and not an imposter.
But the seeker must develop good receptivity and faith. Therefore, the chronic problems of anxiety and stress can be relieved more through self confidence, strong will power and with the benevolence of the Divine Power.
Dr. TRILOKI NATH CHUGH INSAN Co-ordinator, Shah Satnam Ji Educational Institutions, Dera Sacha Sauda, Sirsa (Haryana).
Follow us on Facebook, Twitter, Google+, LinkedIn and Instagram, YouTube to get more updates related to sachi shiksha Spiritual Magazine, articles.