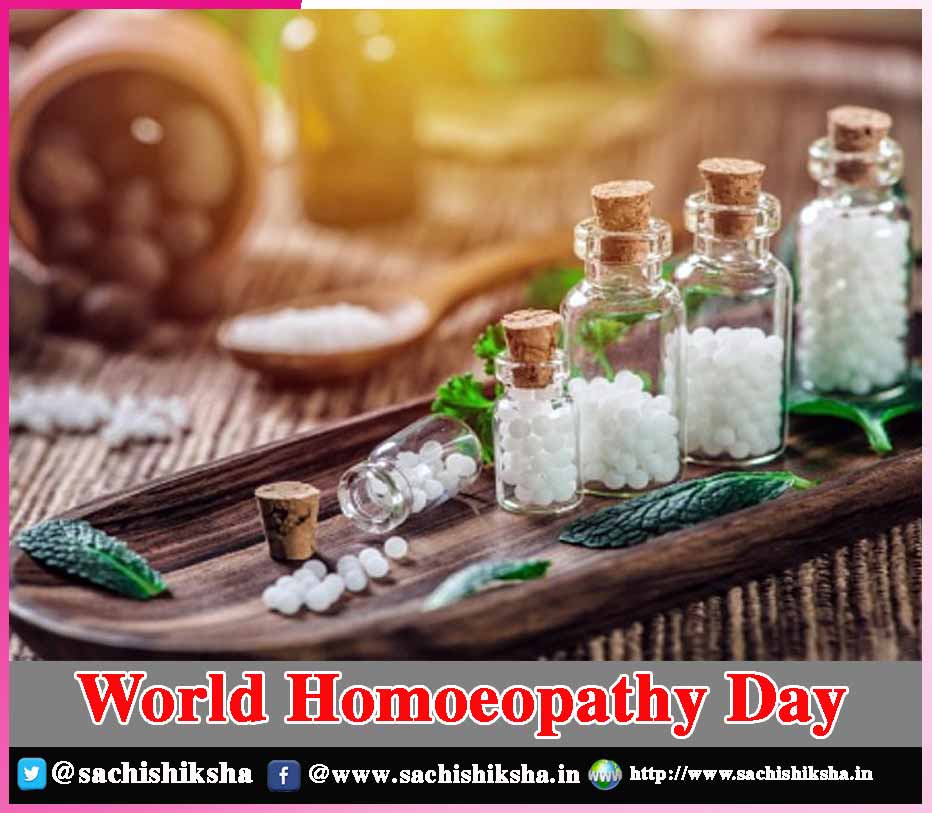 World Homoeopathy Day                                                    
World Homoeopathy Day is celebrated each year on 10 April to pay tribute to homoeopathy and its contribution to the world of medicine.
The day is observed as the birth anniversary of German physician Dr Christian Friedrich Samuel Hahnemann, founder of the homoeopathic system of medicines.
The term homoeopathy comes from a combination of two Greek words – 'homeo' (omio) meaning similar and 'pathos' meaning suffering. Its origin as a form of therapy comes from the ancient Greek times when Hippocrates first formulated the basics of his philosophy.
The theme for 2022 is 'People's Choice of Wellness'. The primary aim of this day is to raise public knowledge about this alternative medical system in order to make it much more readily available to a wider range of individuals. The global homoeopathy fraternity strives to unite in order to develop, improve and modernise the medical system to serve a greater number of people.
Also Read: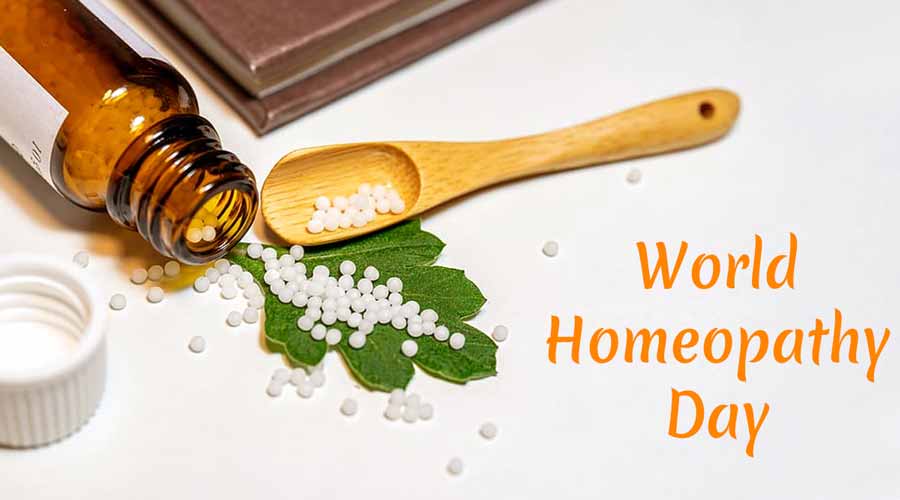 The word 'homoeopathy' first appeared in print in 1807. Over 200 years later, the World Homoeopathy Awareness Organization created the World Homoeopathy Awareness Week between 10 April and 16 April.
Homoeopathy is a holistic system of treatment that aims to treat the whole person, rather than just the physical symptoms. Its medicines are given in highly diluted forms and are therefore extremely safe and have no side-effects.
Its remedies are natural remedies of mineral, plant and animal origin. They are produced in a natural way, thus, differing themselves from chemical medicines. They are prepared by a process of gradually repeated dilution and shaking – a process which makes them capable of stimulating the body's own defence system.
Homoeopathy is one of the alternative disciplines of medicine that generally works by triggering the healing responses of the patient's own body. It believes that any sickness can be cured by inducing symptoms similar to it through doses of natural ingredients.
Doctrine of Drug Proving (Testing)
A unique feature of Homoeopathy is that it does drug testing on human body. Dr Hahnemann tested more than a hundred remedies on himself. The curative power of a drug is determined by its strength to produce symptoms of illness on a healthy body. The degree of symptoms, thus, produced is noted and maintained as a record.
This complimentary medical therapy believes ingredients that induce symptoms also trigger the body's healing system. These ingredients include plant, animal, mineral, and synthetic substances. The ingredients are usually highly diluted.
Today, it is a well established healing system that is also used effectively in dental treatment and the treatment of animals. It is practiced in a large number of countries all over the world.
Development of Homoeopathy in India
The history of homoeopathy in India is linked with Dr Johann Martin Honigberger, an Imperial Austrian physician and traveller. On his second visit to India in 1839, he treated the then ruler of Punjab, Maharaja Ranjeet Singh, suffering from paralysis of the vocal chords. His medicine cured the Maharaja. Highly impressed, Ranjeet Singh made Dr Honigberger the chief physician of Lahore court.
After the Maharaja's death, Dr Honigberger moved to Calcutta, where he became famous as the 'Cholera Doctor'. This marked the advent of homoeopathy in India. Though homeopathy was initially introduced in Punjab, it flourished in Bengal, before gradually spreading all over the country.
Mahendra Lal Sircar was the first Indian homoeopathic physician. A number of allopathic doctors started homoeopathic practice following Sircar's lead. The Calcutta Homoeopathic Medical College was established in 1881.
This institution took on a major role in popularising homoeopathy in India. In 1973, the Government of India recognised homoeopathy as one of the national systems of medicine and set up the Central Council of Homoeopathy (CCH) to regulate its education and practice. At present, homoeopathy is the third most popular method of medical treatment after allopathy and Ayurved.
According to the Homoeopathy Research Institute (HRI), 200 million people around the world use it regularly. Half of these people are in India. There are 2 lakh registered homoeopathy doctors in India, with 12,000 doctors added each year.
The Lok Sabha passed the Homoeopathy Council Bill in July 2018, which seeks to replace the Central Council of Homoeopathy with a board of governors. The objective of this exercise is to bring accountability and improve the quality of education in homoeopathy studies.
The Central Council for Research in Homoeopathy (CCRH) – which carries out multi-dimensional work in the field of quality research, education, clinical practice and standardization of drug manufacture for holistic development of the homoeopathy sector – is striving to improve the public healthcare in the country and strive for wider acceptability of this alternative therapy globally.
This medical therapy is one of the trusted medical systems in the country. India is one of the biggest homoeopathic drug manufacturers and traders globally. In India, Ayurved as well homoeopathy fall under the purview of AYUSH Ministry.
Advantages of Homoeopathy
Every individual responds in a different manner to different medicines and treatments. This uniqueness of the symptoms and reactions brings in the difference in the remedy prescribed to each one of them. Homoeopathy respects the concept of personalised medication.
It is considered a safe treatment as it uses doses in extremely diluted quantities and there are usually minimal side effects. Its non-toxicity makes it a good choice for the treatment of children.
Another benefit of homoeopathy is the cost of treatment. Its remedies often cost a fraction of the cost of conventional drugs. Homoeopathic treatment has been effective in treating many conditions.
In the treatment of allergies and asthma, this therapy looks for the underlying problem in each patient and provides long-term medications to combat it.
In order to provide medicines that may assist a person in losing weight, this medical therapy takes into consideration a person's food choices, digestive process, and mental stability before prescribing the right medication.
As a result of homoeopathy, a person's immunity is improved by identifying components that come into direct touch with the body in high amounts and causes the body to react violently and show signs of discomfort.
To develop disease fighting antibodies, a homoeopathic practitioner prescribes medications that release trace quantities of the same components into the body on a regular basis. This increases tolerance to the illness by the body.
In many countries, homoeopathy therapy is a popular type of complementary medicine. In the United States, about 60 lakh people use homoeopathy for self-care and specific health conditions. Some countries like Brazil, Mexico, and Switzerland use homeopathy in their national health system.